Basic Info | Blog Entries | Articles | Other Bloggers | Trip Map | Prayer Team
Basic Info on the Compassion International Trip to Uganda
On February 10, 2008, I will be joining 15 other bloggers on a journey to Uganda with Compassion International. This is a history-making and Internet event of incredible magnitude — a "world first" is one phrase I've heard, but I'm taking that to mean "world first" like John 3:16 means. Each of us going is excited, humbled, and passionate about the need and the purpose of the trip.
The bloggers are a wide variety of personalities and writing styles take a look at our varied bunch on the Compassion bloggers page. Some are absolutely hilarious and some are very serious. Taken together, we are into politics, real estate, music, writing, being moms, loving kids, being dads, preaching, teaching, working for non-profits, advocating for the poor, and a whole lot more. Some are part of the blog-squad-Facebook-generation and some of us are a bit more … shall we say, year-worn — folks with fallen arches and sore feet before we even take a step on Ugandan dirt. All of us, however, are passionate to see hundreds of children sponsored as a result of this trip!We are all excited to be given this opportunity to share with you the important role you could play in changing the life and future of a child.
As much as the trip is intriguing and exciting, the real focus is on children … lots of children who need a chance to know Jesus and have the basic essentials of life so they do not lose hope and our world does not lose them. This is the real purpose of the trip. Compassion International is committed to releasing children from poverty in Jesus' name.
Donna and I believe in this mission and have supported a little boy named Starlin in a different part of the world. We had already decided to sponsor a little girl in Africa when Compassion contacted me about going to Uganda. We hope to meet our new little girl, named Doreen, while we are in Uganda. What a great delight! Along with my fellow bloggers, we will be sharing articles, blog reports, and pictures from the trip. I hope you will join us in the journey and I want to especially ask you to be a part of the prayer team for this trip!

Blog Entries in the Uganda / Compassion Category
You can keep track of the Ugandan Compassion adventure by coming back to the list of Uganda blog entries on the Phil files, Uganda Entries. The week of the trip, articles in Heartlight will also be going out daily. We will have other blog feeds and also pictures and video to share with you during the trip and the weeks that follow. Please be a part of the trip and keep us, our effectiveness and safety, and the sponsorship of hundreds of these children in your prayers.
Also, as the trip approaches and during the trip itself, the regular articles on Heartlight will focus on this Compassion International effort. Here is a growing list of articles you can find on Heartlight.
Check Out the Other Bloggers on the Trip for Some Great Reading and Videos!
Here is a list of everyone who'll be going. Visit their sites. Pray for us. We return on February 18. Well over 20,000 miles round trip. I can't wait.
David Kuo http://blog.beliefnet.com/jwalking/
Randy Elrod http://randyelrod.typepad.com/
Chris Elrod http://www.seekersolutions.typepad.com
Carlos Whittaker http://www.ragamuffinsoul.com/
Heather Whittaker http://whittakerwoman.typepad.com/
Shannon http://rocksinmydryer.typepad.com/shannon/
Sophie "Boomama" http://www.boomama.net/
Anne Jackson http://www.flowerdust.net
Phil Ware http://blogs.heartlight.org/phil/
Doug Van Pelt http://www.hmmagazine.com/blogs/doug
Shaun Groves http://www.shaungroves.com/shlog/
Compassion Staff
Spence Smith http://spencesmith.typepad.com/spenceBrian Seay http://brianseay.wordpress.com/
Photographer
Keely Scott – http://keelymariescott.blogspot.com/
Thanks to fellow blog traveler, Anne Jackson, here's a map of our journey. Picture pages will be added as the trip begin.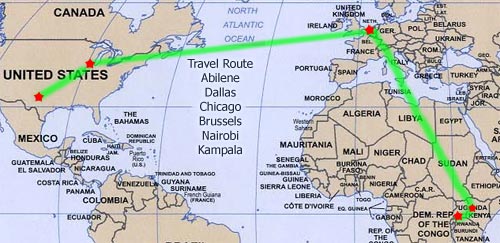 If you would be willing to pray for us on the trip, we would all appreciate you sharing a blessing prayer on the following prayer comment page. Thanks so much for your spiritual support for this effort to make a difference in the lives of children!
5 Responses to 'Compassion to Uganda'
Leave a Reply