Archive for the 'wilted' tag
Sooner or later, the jet lag, emotion, and amazement of the Compassion trip to Uganda had to hit me. When we arrived home on Monday the 19th, I got a good night's sleep and jumped right back into my routine with Heartlight and Southern Hills. I was playing catch up and scrambled my way through a busy week.
On Sunday morning, however, about ten minutes into my sermon, an image flashed on the screen of some of the children I had been with in Uganda. Then the picture, the little girl we sponsor flashed on the screen. In a very public situation, and without warning, all the emotions, exhaustion, cultural differences, and jet lag hit all at once. I wrestled to gather my emotions, my voice pushed by will through clenched vocal chords tangled by emotions. The carefully prepared outline of a message suddenly scrambled in my head as my thoughts wrestled with the emotions of my heart. By the grace of God, I got through it without a total meltdown. However, some things slipped out in ways that I wouldn't have said them under different circumstances. Carefully crafted points suddenly became fuzzily entangled in the moment.
When I sat down with ministry staff and several elders months earlier to speak on the topic, "Unto the Least of These," I had no idea I was going to Uganda to be with children, and especially this one special child, whose smiles would be indelibly written on the canvas of my heart. But I had gotten through the message … in the first service! Somehow, the Holy Spirit was going to have to pick me up and kick me in the backside and help me through another one.
Before I made it home from that Sunday morning, Megan (our daughter) and I picked up Donna at the airport. She was coming in from a speaking engagement in Alabama with her friends, The Coffee Group. They were excited and tired and glad to be home, but feeling good about their weekend with their sisters in Christ from Homewood. I was excited to be with her and we were both glad to get home and be together.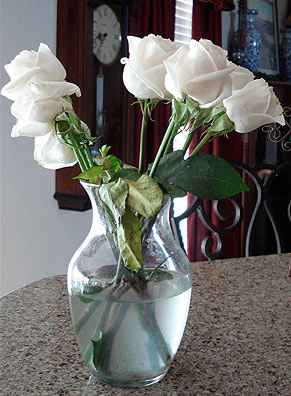 On the way into the house, there on the counter, was a simple vase filled with white roses. They looked great except for one wilted set of leaves. I had sent them to her for Valentines' Day, along with red and pink roses — two dozen in all. Somehow the white ones had hung on for nearly two weeks and still looked good, but all the other roses with color had wilted. I had culled out the wilted roses, and left behind the white ones. It was a little thing, but something I knew Donna would notice as a simple way to say, "Glad you are home! I love you!"
As I looked at those roses, that's how I felt. Glad to be home and loved, but drained of color and wilted on the edges.
My blogging buddies — it is unbelievably cool to think of these incredible people as my buddies connected at the heart through the children of Uganda — have been discussing the challenge we have faced the last few days of speaking about this event. We want to share what we feel, but our feelings are too deep to communicate without tears and laughter. We are not sad, we are just deeply changed. For awhile, as we regain our balance, we are wilted roses. But unlike the roses I culled to leave only the nice looking white ones for Donna to see, we will regain our color and lose our wilt. We have experienced something we don't want to forget and have been touched by children whom we can't forget.