Archive for the 'poor' tag
LORD, who may dwell in your sanctuary?
Who may live on your holy mountain?
Those whose walk is blameless,
who do what is righteous,
who speak the truth from their hearts;
who have no slander on their tongues,
who do their neighbors no wrong,
who cast no slur on others;
who despise those whose ways are vile
but honor whoever fears the LORD;
who keep their oaths even when it hurts;
who lend money to the poor without interest
and do not accept bribes against the innocent.
Whoever does these things
will never be shaken.
\o/ — Comments Psalm 15: They will never be shaken! — \o/
At first glance, my first reaction to Psalm 15 was to say, "Sure, these folks won't be shaken, but I can't be that person! This is describing someone way better than I can be!"
On second glance, I thought that maybe this was the opposite side of the coin from Psalm 14, which seemed so pessimistic and realistic about human failure, so Psalm 15 is more hopeful that someone can live the life God wants.
On third look, I see the kind of person the LORD longs for me to be. These are the values He wants me to live out in my daily life. If these become my goal as I passionately try to live for God, then my future is secure.
On deeper contemplation, the last four words — will never be shaken — reminded me of Hebrews 12:28-29:
Therefore, since we are receiving a kingdom that cannot be shaken, let us be thankful, and so worship God acceptably with reverence and awe, for our "God is a consuming fire"(TNIV)
Then the Holy Spirit defines what true worship with reverence and awe really is in chapter 13:1-16. The character the Spirit describes is comparable to character suggested in Psalm 15 — people who live the life of God in their daily routines.
In a mind clouded by Western culture, I can so easily separate worship from daily character. But, as Psalm 15 reminds me, worship is the character I live in my daily lifestyle because God wants to live with me, in me, and among us. If I want to live with God, then my character needs to reflect His presence in my life. At the heart of this is a deep admiration and appreciation for God and those who honor the LORD.
Fools say in their hearts,
"There is no God."
They are corrupt, their deeds are vile;
there is no one who does good.
The LORD looks down from heaven
on the human race
to see if there are any who understand,
any who seek God.
All have turned away, all have become corrupt;
there is no one who does good,
not even one.
Do all these evildoers know nothing?
They devour my people as though eating bread;
they never call on the LORD.
But there they are, overwhelmed with dread,
for God is present in the company of the righteous.
You evildoers frustrate the plans of the poor,
but the LORD is their refuge.
Oh, that salvation for Israel would come out of Zion!
When the LORD restores his people,
let Jacob rejoice and Israel be glad!
\o/ — Comments Psalm 14: When the Lord restores His people! — \o/

In the jungle and in the forest, each creature is either predator or prey. Many creatures are both! In the world, it often seems this way, too. However, God has called us to His character. He is neither predator or prey. He is Redeemer and Deliverer. He calls us to His character and His mission. To deny His presence, His pervasive influence on the fabric of creation, is foolish and disastrous. Yet many, in their lust for power and control, deny His existence and stalk the weak, prey on the vulnerable, and abuse the righteous.Psalm 14 gives us words for those times of heartbreak, anger, and desperation when we see the vulnerable savagely devoured by the godless. The godless celebrate because they believe there is no God and that there is no one to hold them accountable for their wickedness, corruption, and evil. For those under relentless attack, it does feel as if all goodness has vanished from the earth and only the vile rule. (Romans 3 reminds us that there are times when we all have fallen into this category and our only deliverance is God's costly grace given us in Jesus!)
We live in a time when Christians are persecuted and martyred in many parts of our world without much comment from the press and almost without notice by their brothers and sisters in the Western world. (See Voice of the Martyrs for details.)
What can we do to be genuine peacemakers?
What can we do to help our fellow brothers and sisters hang on and trust that God will act?
How can we help them hold on and find refuge in the LORD?
How can we encourage them that deliverance is not a matter of IF God will act, but WHEN He will act?
More than questions to ponder, these are soul-searching issues we must master. And until we master both question and answer, we must pray, Oh, that salvation … would come … When the LORD restores His people!
O LORD, please act! Please intervene. Please restore. And, dear God, please stir us — your people with freedom, money, power, and protection — to pray and work for the deliverance of our brothers and sisters under persecution. Please stir us to be a blessing because we are so blessed. Please use us to be a tool to help your people have reason to rejoice and be glad!

What we sometimes call worship, but it's often not.
What we long to share with those we love, but often don't.
What so many of us want in our daily lives with God, but often won't.
What the name of the slum is that I sat in this morning claims to be, but isn't.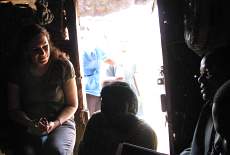 I sat in a matchbox-sized house — 7 foot by 9 foot, one wall a little over 5 foot tall and the other about 9 foot tall. Sweat from my hair ran under my collar and down my back. The light filtered into this tiniest of homes through the crowded doorway. Eight souls share this cramped box called a house on Celebration Hill, in Kampala, Uganda.
Over the shoulder of a child standing in the doorway, I could see the beautiful mosque on top of the hill. Other than the call for afternoon prayers that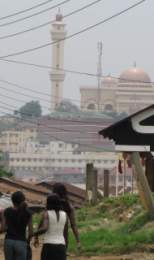 filtered down the hill from the mosque and spilled into this neighborhood, the mosque's presence offered little visble impact, and even less solace, in the lives of these people caught in death grip of poverty. This is supposedly a largely Muslim neighborhood, but the lack or morals and the darkness of the "night" in this place are really testimonies to the lack of faith, no matter the claimed religion.
We were gathered to learn and to love from this family. The mother went to her knees to thank us for our presence. She openly shared her deepest concerns: a better relationship with her husband and better health for herself and her children. Underneath lay the other request: a way to escape the poverty and a way to replace her secret income from her home brew that only brought a more recognizable blight to her neighborhood.
The father of this family, her husband, worked part-time with the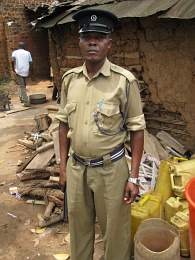 anti-terrorism police. He showed up near the end of our visit and proudly put on his uniform — hat, shirt, baton, and rain hood. She dyes some kind of clothing or rope, but also runs a business that provides the "celebrators" with their neighborhood hooch, a home brew, and her only income. But drunkenness and sexual attacks are result of this awful brew during Friday reveling on Celebration Hill. Like the neighborhood around her, this mom-wife-brewmaster is trapped in the squalor and deep poverty of poor choices, poorer opportunities, and the poorest kinds of hope.
Little by little, this family is being led out of the cycle of poverty and self-defeating choices, by the one reason to celebrate on Celebration Hill: a church partnered with Compassion International to give children in this neighborhood a figthing chance. Unlike neighborhood flight in the U.S. as a neighborhood "changes demographics" (Code for "changes racial composition"!), the leaders of this church come from outside the neighborhood to redeem it and bless it. Many of them have escaped the traps of self-defeating behaviors and are committed to help these people find a reason to hope and a way out of the darkness.
For a few moments, I was blessed to be in indescribable squalor and yet feel that I was among people who truly lived it when they prayed, "Thy Kingdom come, Thy will be done, on earth as it is in heaven."
"What would good people do if the wicked destroyed all that is good?"
The psalmist, David, asks this question in Psalm 11:3 (ERV). However, all three psalms in our reading today (Psalms 10-12) focus on this same basic issue. Those who scorn the will and the way of God have not only abandoned the poor, the needy, the helpless, the orphan, and the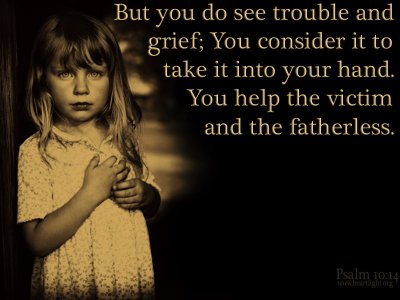 good people, but they also have abused, taken advantage of, and brought injustice upon them. They assume God doesn't care, if of course, any god is there at all. They bring evil on the powerless and curse God on whom these helpless call.
//Inspiration: Psalm 12:7-8 (ERV)
LORD, take care of the helpless. Protect them forever from the wicked people in this world. The wicked are all around us, and everyone thinks evil is something to be praised!
//Incarnation:
When your heart is focused on something and go back and read familiar Scriptures, an amazing thing happens: you see things emphasized in God's word you never noticed before. As my heart has turned to the poor in recent days, especially the poor children of Uganda, I have been overwhelmed at what God has been saying to me from the Gospel of Luke and now the Psalms. I don't know if this is part of His plan to etch His will on my heart. Some of my Heartlight.com friends would call this not a coincidence, but a "Godincidence"!) Or this could simply be that my eyes are open to read the Scripture from another vantage point. All I know is that my eyes have been opened and that God has etched some newly discovered truths deep in my heart. Those who suffer from evil in both high and low places of authority are always the poor, the helpless, and the children. So we do cry out to God. And I will let my prayer, my invitation to God tonight be the words of the psalmist.
//Invitation:
LORD, get up and do something. God, punish those who are wicked. Don't forget those who are poor and helpless. And, dear Father, I pledge to do what I can to help those who are forgotten, abandoned, and abused in Your name. Through Jesus I pledge this and ask for Your intervention in our world. Amen.
You know if a culture values human life by the way it treats its children. That's why Mother Teresa responded to a Newsweek Magazine question many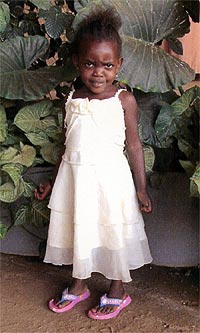 years ago the way she did. She was asked what she thought about abortion in America. Her response was something close to this: "When a society kills its own children, what is there left to say?"
Jesus makes clear in Luke 18 that He not only loves children, but that he will also hold accountable those who keep them from Him or cause them to stumble. In addition, Luke has emphasized strongly the way Jesus wants us treat children and the poor for the last three chapters, Luke 16-18. So often, poverty keeps children from having a chance at anything … a healthy life, opportunity to thrive and succeed, and most of all, to find Jesus and a world-wide family of grace.
I had not expected or anticipated the powerful message of these chapters to coincide with my preparation to go to Uganda and my families' opportunity to write the two children we support monthly through Compassion, Doreen and Estarlin (both pictured in the blog). God has a way of both confronting and confirming His call to us and I see this happening to me in these chapters. I hope you will be in prayer about what God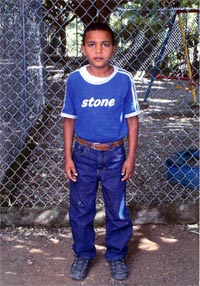 is showing you in Luke 16-18, too.
//Inspiration: Luke 18:16
Then Jesus called for the children and said to the disciples, "Let the children come to me. Don't stop them! For the Kingdom of God belongs to those who are like these children."
//Incarnation:
I must hear the call of Jesus to me and not wait for others to recognize His voice, for He may be calling them to some other act of kindness to the poor and the childre. But this I know, I must be faithful to His call on my heart!
//Invitation:
O Lord Jesus, please help me see how can help with the many who are wanting to know you, but don't yet know it and may never have the chance because of their circumstances. In Jesus' name. Amen.
Well, back to my devotional post I had to postpone because I fell asleep. My devotional reading Saturday was from Luke 14. Twice, Jesus mentions four groups of people often overlooked in life and in religion — the poor, the crippled, the lame, and the blind (vs. 13 & 21).
This forgotten set of four caught my attention for several reasons. First, I was preaching from John 5 and the story of the paralyzed man that Jesus healed at the pool of Bethesda. Second, I have been preparing to go a trip to Uganda to work with those who are often the most forgotten — children of poverty and AIDS orphans.
Jesus' two points in regard to these struck me powerfully.
First, it is easy for us invite our friends and family into our lives, but to be like Jesus, we must invite those who cannot repay us! Of course, my passion is for children. I serve on a board for Christian Homes and Family Services, trying to help children, birth moms, and adoptive parents find a future. In addition, Donna and I have been involved with supporting a child with Compassion International for several years.
Jesus' second reference to these forgotten four had to do with the "normal religious folks" being too distracted with the things of life to be ready to accept God's invitation to a party, so God made sure the forgotten four weren't forgotten!
One of these references is a challenge and the other is a warning. so what will I do with them? And what will you do with them?
//Inspiration: Luke 14:13-14
But when you give a banquet, invite the poor, the crippled, the lame, the blind, and you will be blessed. Although they cannot repay you, you will be repaid at the resurrection of the righteous.
//Incarnation:
I think the real challenge for me is to not just care for those forgotten from a distance, but also those around me everyday. I know that I can easily begin to not notice those who I see regularly. I know that my human nature makes me wary of messy entanglements. So I've got to hear Jesus and follow Jesus into the service of His precious, but often forgotten creations.
//Invitation:
O Lord Jesus, please help me see people as you do. O Father God, stir in me a compassion that values each person as someone you know, love, and made for a purpose. O Holy Spirit, empower me to care when others around refuse to even notice, the forgotten around me. In Jesus' name I pray. Amen.