Archive for the 'parents' tag
Okay. Ricky (one of my ministry teammates) challenged a bunch on our leadership team to pray and fast either Monday or Tuesday. So, during my appointed "lunch time" today, I was munching on leadership principles from Numbers. I know, the Old Testament book of Numbers doesn't sound exotic or life-changing — more like walking through a bunch of sand. But when you dig a little deeper (sorry about the bad pun), there is a lot there to be found.
From good ol' Moses, the greatest leader ever before Jesus, came some interesting insights.
I got a good dose of raising holy hands (wave offering) in relationship to leadership — the laying on of hands and the raising of hands was a key part of placing new leaders before God!
I got a large dose of falling on my face before the Lord interceding for the people of God.
I got a reprimand on not listening for the voice of God and not being more passionate to live out His clearly stated will.
I got a reminder that leaders are going to have to deal with a lot of whining and blaming and complaining and questioning — even from those closest to us.
I was blown away by the importance of obeying and responding to the call of God when given the opportunity, or it may not come again in our generation.
I saw how negative voices are much more easily heard in a crowd and nay-saying can swamp the vision of God's people and drown out the promises of God from their hearts even if the clear word of God is declared.
But the one thing that haunts me most, especially as we deal with learning how to communicate God's truth to post-mod adults and how we help them experience the presence of God in their lives is this:
"'You said your children would be carried off as plunder.' Well, I will bring them safely into the land, and they will enjoy what you have despised. But as for you, you will drop dead in this wilderness. And your children will be like shepherds, wandering in the wilderness for forty years. In this way, they will pay for your faithlessness, until the last of you lies dead in the wilderness." (Numbers 14:31-33 NLT)
I am a boomer. Not proud of it, but it was when God chose for me to be birthed. So as we sit around and complain about the church's past and we moan about the present and we navel gaze about what pleases us … I fear we do not demonstrate that Jesus is found in action and emotion and service and challenge and …
Enough said. Only 15% of the leadership had the vision in God to act … so the 85%, with the support of the "led," missed the opportunity and cost their children 40 years of experiencing God's power and grace! They had to wander around in the sand until all their parent's fears and faithlessness were buried.
That being said, who suffered most? I say it was the parental generation who never got to see their children experience God for real. Of course those children did experience God for real, it's just that their parents were buried and gone … under the sand.
Please, dear God, may it not be so of us … of me!
"I'm not a gooseball!" I died laughing.
That's what one of the sextuplets said as his dad, John, joked with him about having his shoes on the wrong feet. But to understand, I need to tell you something.
But before my confession, I need re-assert my masculine side. So … I love sports, played quite a few, and even went to college on an athletics scholarship — well, kinda an athletics scholarship, it was golf. On a recent trip to DFW, I took my daughter with me to what she calls, "A Man Mall" — Bass Proshop and other manly destinations which she describes more delightfully in her blog. In addition, I am a bow hunter — please, before animals lovers get mad, let me remind you of two things: 1) I eat what I shoot, and 2) they call it hunting and not killing because mostly you sit and admire the scenery. So even though I'm over the hill and balding, I am still a full blooded, testosterone carrying, male. Whew, my identity was a bit confused for a minute, glad I got that out of my system.
So here's my confession … (dramatic pause) … one of very favorite TV shows ever is called, Jon & Kate + 8. While the TV plays down their faith, it runs through every program and you can see the Scripture memory verses in the background. They have twins and sextuplets, yet manage it remarkably. While neither of the parents are perfect, I think I would have had many more moments I wouldn't want shown on TV as a dad and husband than Jon and Kate have, and we only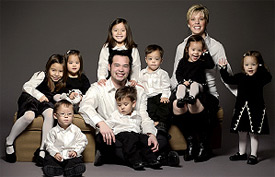 have two children. How they do it is remarkable — and in part thanks to a wonderful family and some cool friends that help them.
Part of my attraction is that as the preacher guy for a pretty big church and also president of Heartlight.org my life is filled with stress and chaos. So I guess I enjoy watching someone else try manage absolute chaos — something I would compare to juggling warm Jello®. Yet I have to admit that a big part of my interest in the show is just plain admiration. John and Kate know their 8 children, call them by name, know their children's toys and clothes and comfort toys, do the same kinds of things with their children most families do, and still manage to joke with each other about it. Yes, they do have bad moments, but all in all, they are incredible. And they do it all in front of a camera.
In the end, however, I am reminded every week that each child — Jon and Kate's, yours, mine, and everybody else's — is a distinct creation of God. Filled with personality, needs, wants, talents, interests, purpose and unique flashes of God's image (Psalms 139:13-16 NLT).
Our family prays for this family and these parents and these children that their lives don't lose touch with our Abba Father, the Creator and Sustainer of us all. John and Kate, the Warehouse gang loves you guys and you have never met us. Don't let the camera mess it all up for you and don't lose sight of how precious each of you are to each other and your kids! So until next Monday night, God bless. And stay off those "hair panes"!
Oh yeah, and did I mention I went to a NASCAR race earlier this year? (Just didn't want that manliness to get lost in the sentimentality!)
P.S. — Be sure and look at their videos!