Archive for the 'Mark' tag
Summer Road Trip with Jesus through the Gospel of Mark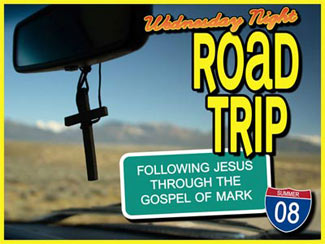 We're taking a summer road trip through the Gospel of Mark this summer. It's full of funny videos and challenging insights from John Mark, a man who grew up in the center of the action in Jerusalem, went with Paul and Barnabas on the first missionary journey, had his share of embarrassments and failures, but finally ended up as one of the most influential people in the history of Jesus' followers!
Great defensive lineman great for Minnesota Vikings, Jim Marshall, is known more for his running the wrong way than his great play over the years as part of the great Viking defensive line sometimes called the Purple People Eaters! The parody video exists because the actual one is licensed by the NFL.
Our travel guide for our summer road trip had a worse reputation for running the wrong way than Jim Marshall did … a reputation that he had to overcome:
Mark 14:50-51 – ran away naked in the night
Acts 13:13 – he deserted Paul and Barnabas in Pamphylia
Acts 15:36-41 – caused such a huge disagreement that Paul & Barnabas had a very contentious disagreement and split up their missionary team
At this point, Mark is a young of man of great potential, which all seems lost!
• Acts 12:25-13:5 – He was included in the group that came from Jerusalem to Antioch with Barnabas and Paul. He was also chosen to accompany them on what we call the first missionary journey.
• His mother, Mary, had furnished the nice, large house with servants for the early church to meet in and which became the hub of the apostle's ministry in Jerusalem (Acts 12:12) – some suggest this also could have been the place where Jesus had the Last Supper (Mark 14:12-26).
But, Barnabas was a man of encouragement (Acts 4:32-37) and a mentor of ministers and missionaries. So when the big blow up happened with Paul, Barnabas took Mark, his cousin (Colossians 4:10), with him on a missionary journey to Cyprus, while Paul and Silas headed off to Syria (Acts 15:39).
Just as Barnabas had saved Paul from the scrap heap of rejection (Acts 9:26-31; Acts 11:19-26), he also saved John Mark and made him a useful servant to the church, church leaders, and to the Lord. After Barnabas work with Mark, Mark was associated with the apostle Peter – who calls Mark his "son" in the faith. Mark was with Peter in Rome when he wrote the book of 1 Peter (5:13). He also appears about this time coming from Rome to Colossae on a mission from Paul, and Paul's language suggests that they knew of Mark's failures. Paul assures them that Mark has overcome them and they are to welcome him (Colossians 4:10; Philemon 24).
So it is not surprising that several years later, at the end of Paul's life when he is headed for execution (2 Timothy 4:6-8), Paul begs Timothy to bring Mark with him before winter sets in and travel is impossible. Why was this so urgent? Two reasons: 1) Mark was useful to Paul, and 2) Paul wants his coat, scrolls, and parchments – a coat to keep him warm and reading/writing materials to possibly discuss the Jesus story with Mark (2 Timothy 4:11-13).
But we are taking a summer road trip with Mark, so we need to ask a very basic cornbread kind of question: What makes Mark a good tour guide for us on our summer road trip through the life of Jesus?
Well, he traveled widely all over the Roman empire sharing the story of Jesus.
In addition, he had access to a lot of first hand knowledge of Jesus' life, especially in and around Jerusalem. He also knew well three great leaders and missionaries in the early church, Barnabas, Paul, and Peter. So while we know very little about Mark's formal education, he was sure in the very center of leadership of the early church and missionary effort!
But don't you think there's something even more powerful about his failures and then his reclamation that makes him a great tour guide for the life of Jesus? Doesn't that make his summary of Jesus' message all the more powerful?
After John was arrested, Jesus went to Galilee and told the good news that comes from God. He said, "The time has come! God's kingdom will soon be here. Turn back to God and believe the good news!" (Mark 1:14-15 NLT)
Finally, and a point I have never heard emphasized, but one I deeply appreciate, Mark knew the failures of great leaders in Jesus' greatest leaders, and he didn't quit: he didn't give up on himself, he didn't become bitter toward those leaders, and he didn't bad mouth the church or her leaders. As a flawed human, he knew the grace all of us need, to turn life around and start fresh! None of us fully lives up to the call of the cross, but we're all called to follow Jesus on that road, and in the process, who knows what we might see? (Mark 8:27-9:1)
Road trips are fun, but often filled with surprises – hardships, failures, and unexpected joys. Our tour guide has been met these on the road before, and he has shown that Jesus could get him through. So shouldn't we anticipate that Mark will help us do the same?
Mark has been a friend since college. He's spent time in "full time" ministry on staff with churches. Now, he works as a builder, but still does full time ministry with his wife influencing young couples to follow Jesus.
He had called simply to share an affirmation about someone who has a low wage job that serves people, but which is not very respected by most folks. He was bragging on Roy and how amazing he thought it was that Roy could serve in this position for 23 years and still have such a good attitude toward people, many who treat him poorly, or at best, as invisible. Mark was praising Roy for his staying power and faithfulness.
As a minister, I don't get a lot of calls bragging on someone for doing good things. It's the unfortunate sign of our times that we focus so much energy on finding negative things and then repeating them to others. We seem to find those negative things more easily and hang on to them more tenaciously. But not Mark. I was thankful to have this good dose of blessing and encouragement in the middle of a busy day.
Then Mark went one step further: he asked to be the first person who prayed with me for my trip "right now" before I left for Uganda with Compassion International. Mark has been a youth minister and a young single adult minister: he knows how important it is for kids to come to know Jesus before they hit their twenties. The words of his intercession washed over me like a shower of grace. What a blessing.
I would love it if you would be in prayer about this upcoming trip as we try to find monthly sponsors for at least 500 children. For just a little more than a dollar a day, you can join in me supporting a child (we actually support two) and help them with the basic necessities of life and do this in the name of Jesus.
I covet your prayers, so if you would be willing to be a part of the prayer team for me while I'm on this trip, please follow this link and leave a response to the information there. Also, you want to read my companion article to this post on Heartlight, called "My Deliverer" from the Rich Mullins' song. What are some other ways to help us be a deliverer for children in need so they can ultimately find the great Deliverer. Let me hear from you in the response are below!