Archive for the 'Images' tag
I have always felt "Good Friday" was an oxymoron, a mis-label, and spin put on the most horrible events in human history. On this day, creature put to death Creator, man rebelled violently against Messiah, and liars ruled supreme over the truth of the Lord. On this day, everything was help in balance … but only because of the grace of the Lord who held back legions of angels and an eternity of power to have the King of Glory pay the ransom price to liberate us from our bondage to death.
Despite it's naming history, "Good Friday" is really Hard Friday. Only God's might and mercy make it different. So for this weekend, I offer you three images and thoughts about the grace of our God and the gift of our Lord and Savior Jesus Christ.
The first image is all about hard Friday. Let it remind you that the King of Glory faced what endured because of His love for you and His desire to set you free from "the law of sin and death."
Click on the Image for a Full Size Free Downloadable Image.
The second image is a reminder why Sundays are so important. On the first day of the week, especially the Sunday after Hard Friday, Jesus was raised from the dead. Resurrection Sunday changes everything. We get to celebrate it in each weekly cycle on each successive Sunday and once a year on Easter. These cycles, one tied to the week and the other tied to Jewish Passover, remind us of the Lord's victory over death and His commitment to be with His people. He is with us, Immanuel, whether they are opening his word and remembering His story (Matthew 1:23), living in genuine community and worship (Matthew 18:20), sharing and serving others with compassion (Matthew 25:40), or crossing cultural boundaries to walk along side people and see Jesus come alive in them as disciples (Matthew 28:18-20). So look for the Lord among the living, not the dead!
Click on the Image for a Full Size Free Downloadable Image.
The challenge is to remind ourselves that what Jesus did, He still does. Hard Friday and Resurrection Sunday are not something long ago and far away, but they can be real for us, now.  We mustn't forget the sacrificial grace and the glorious triumph are still within our reach!

Click Here for Direct Link to Video at WorshipHouseMedia.com!
I have always been moved by 2 Corinthians 3:1-18, as the apostle of grace is emphatic: a written code cannot save us, redeem us, change us, or make us like God. Clearly, Paul believes that the Law is good in that it shows us the holiness God expects of us, but he is emphatic (Galatians brings it home powerfully) that the Law — or any law for that matter — can only convict us of our failures.
Jesus is clearly the answer for our shortfall and sinfulness, but with Jesus comes more than just forgiveness and cleansing. With Jesus comes the freedom and power to be what we could not be trying to fulfill law's demands to be right with God (Romans 8:1-4; 2 Corinthians 3:17-18). This power is not some impersonal force, but is God's presence in us, the Holy Spirit (1 Corinthians 6:19-20). This glorious freedom the Spirit brings us, to be what the written code could never make us, means that all of our goodness is the reflected goodness that comes from our glorious God who provided Jesus as our sacrifice and Jesus who sent the Holy Spirit to us to complete God's perfection in us. I have tried often to capture this concept visually, never to my satisfaction. However, the old image below with the text of 2 Corinthians 3:18 is a helpful reminder that any glory in us and on us and from us, is always the reflected glory of Jesus and the work of the Holy Spirit to make that reflected glory genuine in our lives.
This image is available in 1024 x 768 size in several options on Heartlight.org and can be used for any non-commercial use by churches, non-profits and individuals as longs as it is unaltered:
For a list of hundreds of images check out Heartlight.org Backgrounds Page and use the search window on the right.
For several days, the weather forecasters had warned that last night could be a rough one. It seemed fitting that this might be true, since our family's had a bit of a rough road with medical issues for the last several weeks. Yet last night passed without the typical spring thunderstorm fury we've come to expect out here in west Texas. The morning broke bright and clear with a touch of cool in the air and sun streaming down. What a beautiful morning!
As I worked on images and meandered around some Bible verses for my own quiet time this morning, the Lord led me to this verse from Psalm 143:8. It seemed appropriate and it fit an image I was working with for Heartlight graphics:
Let the morning bring me word of your unfailing love, for I have put my trust in you. Show me the way I should go, for to you I lift up my soul.
The image below is much small version of the image I posted to Heartlight's PowerPoint background Scripture graphics (you can use the search feature to look through thousands of images that can be used in worship or as your computer wallpaper.) This small image gives you the idea, but I hope you can make the prayer your own whether the image interests you or not. Blessings for the weekend and for seeing the way the Lord wants you to go!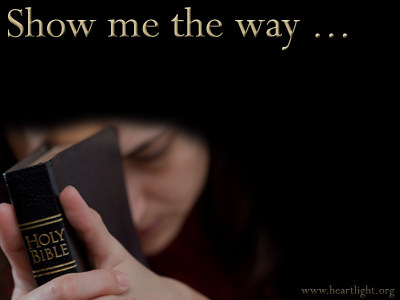 You can find three versions of this image, Title (picture above), Text (with the Scripture), and Plain (only the image).