Archive for the 'hiv' tag
The wise one said it powerfully and clearly:
Whoever oppresses the poor shows contempt for their Maker, but whoever is kind to the needy honors God (Proverbs 14:31 TNIV).
A photo from a recent trip to Africa called to mind this passage. The color, shadowing, and sunlight called me to this message. But this image is more than that for me. I can still remember the smell of that moment … the smell of the fish being cleaned about fifteen feet to the left of this picture, the smell of the morning cooking smoke still hanging in the air, the smell of human waste barely detectable in the breeze, and the aroma of baby spit up smelling like moldy soy. I also remember the emotional smells: a faint aroma of hope celebrating the intervention of Compassion into the lives of a twenty-two year old married HIV positive woman of with two young children and the clean, prepared, and loving tenderness of the project worker who shared scripture and love, as well as her expertise on health and nutrition, with this family a world away from where I live.
Now if I can just live to honor God in this … I so want to be a person of honor, who honors, the LORD who has been so gracious with me, by being a real, tangible, fragrantly pleasing aroma of Christ (2 Corinthians 2:15). To bet a part of culture change, as Randy's Watercooler Wednesday suggests, I've got to keep all the odors as images in my heart and then act personally.
While I like the Scripture graphic (aka PowerPoint background) with the text, of the three related images, I like the one without any text or title most of all. All three — the Bible text, the title, and the plain image — can be downloaded free from Heartlight.org. Check on the latest images, or use the search for color, Bible reference, or key theme. Here's a small version of the real image: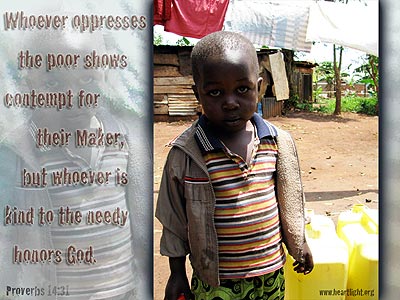 After thirty hours in transit from Entebbe Airport to good ol' Abilene, Texas, I'm back home with my family. Words cannot capture the full emotion of this trip to Uganda. I will, however, share a few thoughts and a video by one of my blogger friends to give you a glimpse of our appreciation and the importance of this ministry
The world is full of hard places and hard people. There are clearly places where darkness reigns. We were introduced to the realities of this darkness as twenty or more folks in their best clothes, and carrying plastic bags full of their life's belongs, got onto our plane in Nairobi as we were traveling into Uganda. They were leaving their homes to escape the violence in Kenya. We experienced this overwhelming challenge as we entered deep into the heart of Kampala's slums for home visits.
There are also many who are determined that the words "amazing grace" are more than just religious talk. We met a few others committed to be outposts of God's Kingdom of grace and hope. I think of Andrew, who quietly slipped into our circle as we worshiped and shared the Lord's Supper on our last Sunday morning in Africa. Andrew is a native Ugandan who is helping others build housing for HIV-orphaned chilren.And our hearts were touched with a couple who have two "bio-children" who joined our group traveling back from Brussels. They had adopted two girls from Liberia and were returning home. We also were privileged to meet several young adults whose lives were changed by Compassion sonsors. We are convinced they will help change the future of their country for good and for God.
I deeply apreciate your prayers and words of encouragement while our group has been gone. Your comments and emails have been a continued blessing as we fought through jet lag, very little sleep, Internet challenges, and deep emotions hard to capture with our feeble words or contain in our hearts.
Please accept my heartfelt gratitude for your prayers. The impact of the trip and our good health are both clear testimonies to your faithfulness. We know good results will continue to be felt as more children are sponsored and thousands of people know about this great opportunity to help make a difference in the lives of children.
To my fellow traveling bloggers, please know my deep love and respect for you, your love for the Lord, and your desire to see the light of God's Kingdom shine in dark places that need grace. What an honor to travel with you and to share in God's sense of humor, creative diversity, and power to use such a interesting and talented group of people.
Most of all, for those who have sponsored a child, a "Thank you!" is not enough. My words of appreciation are not close to being adequate. So I hope that Shaun Grove's video about "Brenda's House" will help you know the kind of power you can have in the life of your sponsored child. Please don't forget to write to them and pray for them. You have no idea how treasured you will be to this child you sponsor. Many of the children we met had saved every letter they have ever received from their sponsor. And if you want to have a taste of the difference you can make, please take a few moments and get a glimpse of the kind of impact your love can make!


Driving back to the hotel after a long day, I was "wierded out" at the sight of two pearly white manikins standing out front of a clothing store wearing red clothing. The display would have looked strange in any city, but here in Africa, bright white manikins just seemed over edge of the "bizarre-ness" meter.
But that wasn't the most out of place sight I saw on the trip back. The other was a guy yelling at the top of his lungs standing on a street corner. He slammed his fist on the Bible as he bellowed. While I couldn't understand all the words he was screaming, he did make it clear that he was warning people about hell. It was also obvious that his message was missing it's mark. As someone on our bus observed, this was the only abandoned street corner that we had seen the whole time we had been in Kampala. People were avoiding this guy like the plague — they moved to the other side of the street long before they reached him, and if they couldn't avoid him, they sped up their pace and made sure not to look his way as they raced past him. Even though I believe he was on that corner with good intentions, he clearly had a serious methodology problem to go along with his faulty understanding of the Good News of Jesus.
In a country trying to escape from poverty and from crushing public health issues, yelling a message devoid of grace and randomly warning people about hell wasn't winning any converts and sure wasn't helping anyone I saw escape from their own private hell. From my vantage point, his approach sure didn't appear to be following Jesus' model of ministry, either. Jesus preached and taught in appropriate places, and he also healed and liberated folks from the bondage when and where needed. But unlike our street corner-preacher, Jesus attracted huge crowds and changed innumerable lives (Matthew 9:35-38).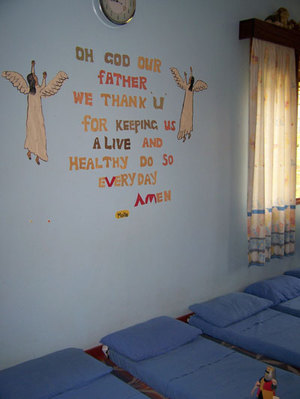 While in Kampala, we got to share in a partner effort of Compassion International. Compassion uses this service as they seek to pattern their work with children after Jesus' approach to ministry. I can assure you that their results are far different, and much more encouraging than the guy preaching on the street corner in Kampala. And the projects with whom they partner also call people to genuine discipleship, but in the context of wholistic ministry to the complete person — heart, soul, mind, and strength (cf. Mark 12:30).
Compassion has partnered with The Mildmay Centre in Kampala, Uganda. This is the leading HIV research and treatment center in Africa. We toured the both sides of the center this morning, the outpatient treatment center and the childcare and inpatient hospital for children that are HIV positive. We saw hundreds of people receiving care, children and adults.Uganda was the first African country to acknowledge their need for help with the HIV epidemic and has taken dramatic steps to address this issue at each of the crucial levels — moral, spiritual, emotional, and physical (heart, soul, mind, and strength). Yet so many are trapped in poverty and all it brings with it — poor hygiene, lack of information, despair, and lack of transportation. The Mildmay Centre is a key component as Compassion plugs into their services for children and their families.
The training, treatment, and support that Compassion offers those diagnosed HIV positive, along their families, makes a difference in the lives of real people and real children. This is true in the life of our Compassion child. Through the church project where she is involved, our Compassion child's mom has been to training to improve her health, hygiene, and habits. They have worked to prevent the condition from being passed on to our Compassion child. So you see, these programs, and these results are not theoretical chunks of data from a place far away. They are personal and real to me and to a child I've held and hugged! This holistic approach to Jesus' message of the Kingdom is our Compassion child's only hope in this world.So many approaches to problems today make no more difference than the strange manikins on display or the well-intentioned street-corner screamer warning about hell. Political battles in government, and sadly in our churches, sidetrack our focus on Jesus-style ministry. However, some approaches are making a difference in the lives of many people … some of these are people we know and love … and part of the reason they are effective is because they are patterned on Jesus' ministry to the whole person!
Jesus went through all the towns and villages, teaching in their synagogues, proclaiming the good news of the kingdom and healing every disease and sickness. When he saw the crowds, he had compassion on them, because they were harassed and helpless, like sheep without a shepherd. Then he said to his disciples, "The harvest is plentiful but the workers are few. Ask the Lord of the harvest, therefore, to send out workers into his harvest field." (Matthew 9:35-38 TNIV).
Read that last sentence again, please. Then realize, you might just be the answer to my prayer for more workers for the His harvest field and a child's hope for life now and for eternity! Sponsor a child and change the future. (And in tomorrow's Heartlight.org article, I'll share with you just how big a difference some of these things have made in the lives of emerging leaders!)
Today was a full day in Kampala, Uganda. We visited with the Compassion staff at their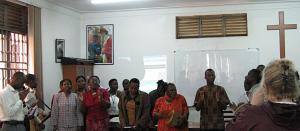 headquarters here, and then drove outside of town on a very bumpy road to go to one of their children centers. In many ways, this was a brief taste of heaven while we dealt with the very real and fallen realities of our fractured world. As I write in my Heartlight.org article today, in many ways it was a little taste of heaven.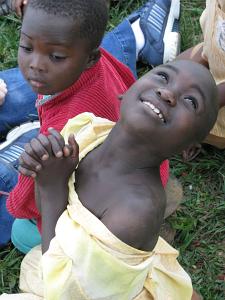 The mothers and children were waiting for us when we arrived. They children were dressed in their nice clothes and greeted us warmly. Several of the youngest children rushed to greet us and wanted to be hugged and held by the "muzungo" visitors. (Muzungo is a term for European or white people.)
The openness and warmth of these children was captivating and lasted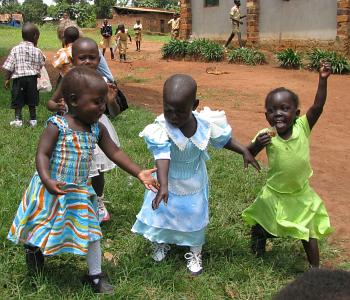 every second we were with them. It wasn't that they craved attention or demanded something of us. In fact, they were extraordinarily well behaved! They were just full of love for us, and especially the people we were with who had come to see them regularly to help with their care and health. This is quite a dramatic change in their behavior with the good new health and social skills they have learned with the CSP (Child Survival Program). Several years ago, this same age group of children had been malnourished and very shy. The intervention of the CSP personnel and their close work with the mothers and children had a huge impact on everything they were now doing.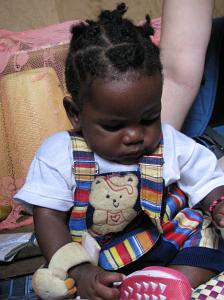 The CSP was the program that was so vital in helping Doreen, our sponsored child I talked about in Heartlight yesterday. They work with moms before their child is born and offer pre-natal, baby, and early childhood training in nutrition, spiritual values, immunization, and other services. We made home visits — the most powerful part of this trip each day for all of us, even though playing and spending time with the kids is more fun. Our group visited with a 23 year old mother of two. She is married and is HIV positive. We learned the infection rate is 6.7 per year. That's new cases each year, so the number in the general population infected is very high. The mom asked us to pray for her healing. She also wanted us to pray that her children could be healthy and that her relationship with her husband be strong. While her home was very small, it was clean and neat as it could be. Her five month old daughter was absolutely precious and it was clear the CSP help had brought great reward to this little child. We later saw the group doing projects for which they could earn money.
After a time of music and celebration, we finished with a time of playing with the kids and enjoying each others company. It was very difficult to leave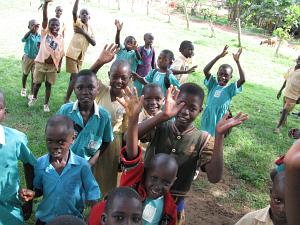 because of the love that flowed among us all!
After the overwhelming emotions of yesterday, today was good, fun, sobering, and hopeful. We can make a huge difference in the lives of children … one child at a time … all it takes is a little over a dollar a day a heart full of Compassion.
Well, back to my devotional post I had to postpone because I fell asleep. My devotional reading Saturday was from Luke 14. Twice, Jesus mentions four groups of people often overlooked in life and in religion — the poor, the crippled, the lame, and the blind (vs. 13 & 21).
This forgotten set of four caught my attention for several reasons. First, I was preaching from John 5 and the story of the paralyzed man that Jesus healed at the pool of Bethesda. Second, I have been preparing to go a trip to Uganda to work with those who are often the most forgotten — children of poverty and AIDS orphans.
Jesus' two points in regard to these struck me powerfully.
First, it is easy for us invite our friends and family into our lives, but to be like Jesus, we must invite those who cannot repay us! Of course, my passion is for children. I serve on a board for Christian Homes and Family Services, trying to help children, birth moms, and adoptive parents find a future. In addition, Donna and I have been involved with supporting a child with Compassion International for several years.
Jesus' second reference to these forgotten four had to do with the "normal religious folks" being too distracted with the things of life to be ready to accept God's invitation to a party, so God made sure the forgotten four weren't forgotten!
One of these references is a challenge and the other is a warning. so what will I do with them? And what will you do with them?
//Inspiration: Luke 14:13-14
But when you give a banquet, invite the poor, the crippled, the lame, the blind, and you will be blessed. Although they cannot repay you, you will be repaid at the resurrection of the righteous.
//Incarnation:
I think the real challenge for me is to not just care for those forgotten from a distance, but also those around me everyday. I know that I can easily begin to not notice those who I see regularly. I know that my human nature makes me wary of messy entanglements. So I've got to hear Jesus and follow Jesus into the service of His precious, but often forgotten creations.
//Invitation:
O Lord Jesus, please help me see people as you do. O Father God, stir in me a compassion that values each person as someone you know, love, and made for a purpose. O Holy Spirit, empower me to care when others around refuse to even notice, the forgotten around me. In Jesus' name I pray. Amen.