Archive for the 'Gospel' tag
Summer Road Trip with Jesus through the Gospel of Mark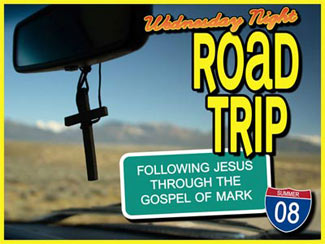 We're taking a summer road trip through the Gospel of Mark this summer. It's full of funny videos and challenging insights from John Mark, a man who grew up in the center of the action in Jerusalem, went with Paul and Barnabas on the first missionary journey, had his share of embarrassments and failures, but finally ended up as one of the most influential people in the history of Jesus' followers!
Great defensive lineman great for Minnesota Vikings, Jim Marshall, is known more for his running the wrong way than his great play over the years as part of the great Viking defensive line sometimes called the Purple People Eaters! The parody video exists because the actual one is licensed by the NFL.
Our travel guide for our summer road trip had a worse reputation for running the wrong way than Jim Marshall did … a reputation that he had to overcome:
Mark 14:50-51 – ran away naked in the night
Acts 13:13 – he deserted Paul and Barnabas in Pamphylia
Acts 15:36-41 – caused such a huge disagreement that Paul & Barnabas had a very contentious disagreement and split up their missionary team
At this point, Mark is a young of man of great potential, which all seems lost!
• Acts 12:25-13:5 – He was included in the group that came from Jerusalem to Antioch with Barnabas and Paul. He was also chosen to accompany them on what we call the first missionary journey.
• His mother, Mary, had furnished the nice, large house with servants for the early church to meet in and which became the hub of the apostle's ministry in Jerusalem (Acts 12:12) – some suggest this also could have been the place where Jesus had the Last Supper (Mark 14:12-26).
But, Barnabas was a man of encouragement (Acts 4:32-37) and a mentor of ministers and missionaries. So when the big blow up happened with Paul, Barnabas took Mark, his cousin (Colossians 4:10), with him on a missionary journey to Cyprus, while Paul and Silas headed off to Syria (Acts 15:39).
Just as Barnabas had saved Paul from the scrap heap of rejection (Acts 9:26-31; Acts 11:19-26), he also saved John Mark and made him a useful servant to the church, church leaders, and to the Lord. After Barnabas work with Mark, Mark was associated with the apostle Peter – who calls Mark his "son" in the faith. Mark was with Peter in Rome when he wrote the book of 1 Peter (5:13). He also appears about this time coming from Rome to Colossae on a mission from Paul, and Paul's language suggests that they knew of Mark's failures. Paul assures them that Mark has overcome them and they are to welcome him (Colossians 4:10; Philemon 24).
So it is not surprising that several years later, at the end of Paul's life when he is headed for execution (2 Timothy 4:6-8), Paul begs Timothy to bring Mark with him before winter sets in and travel is impossible. Why was this so urgent? Two reasons: 1) Mark was useful to Paul, and 2) Paul wants his coat, scrolls, and parchments – a coat to keep him warm and reading/writing materials to possibly discuss the Jesus story with Mark (2 Timothy 4:11-13).
But we are taking a summer road trip with Mark, so we need to ask a very basic cornbread kind of question: What makes Mark a good tour guide for us on our summer road trip through the life of Jesus?
Well, he traveled widely all over the Roman empire sharing the story of Jesus.
In addition, he had access to a lot of first hand knowledge of Jesus' life, especially in and around Jerusalem. He also knew well three great leaders and missionaries in the early church, Barnabas, Paul, and Peter. So while we know very little about Mark's formal education, he was sure in the very center of leadership of the early church and missionary effort!
But don't you think there's something even more powerful about his failures and then his reclamation that makes him a great tour guide for the life of Jesus? Doesn't that make his summary of Jesus' message all the more powerful?
After John was arrested, Jesus went to Galilee and told the good news that comes from God. He said, "The time has come! God's kingdom will soon be here. Turn back to God and believe the good news!" (Mark 1:14-15 NLT)
Finally, and a point I have never heard emphasized, but one I deeply appreciate, Mark knew the failures of great leaders in Jesus' greatest leaders, and he didn't quit: he didn't give up on himself, he didn't become bitter toward those leaders, and he didn't bad mouth the church or her leaders. As a flawed human, he knew the grace all of us need, to turn life around and start fresh! None of us fully lives up to the call of the cross, but we're all called to follow Jesus on that road, and in the process, who knows what we might see? (Mark 8:27-9:1)
Road trips are fun, but often filled with surprises – hardships, failures, and unexpected joys. Our tour guide has been met these on the road before, and he has shown that Jesus could get him through. So shouldn't we anticipate that Mark will help us do the same?
You've probably heard of the old TV show Let's Make a Deal and the new, Howie Mandel and banker driven Deal or No Deal. You may have even heard the often overused expression in sports, "the real deal." But I want us to think for a minute about the Jesus Deal.
I find it heartbreaking that Jesus — who was beloved by non-religious folks and often in trouble with the religious ones –  gets buried underneath all our religious stuff. I guess I was convicted recently in listening to a friend speak. I didn't exactly agree with a tiny part of what he was saying, but the heart and the passion underneath it all really convicted me — even the part he said about church that made me a little uncomfortable. One statement, however, really tore open the rusty-hinged door to my own heart's passion: "If we are not sharing the gospel in our preaching or our teaching here, come get in our face about it."
Yeah, that's the Jesus deal. We've got to be all about sharing the message of God's good headlines about the Jesus and the lifestyle of people whose hearts are captivated by Him.
Folks can be pretty turned off about the word "church" or us referring to church. I know, because I live in a place that is supposed to be this great religious mecca, but in fact, it is full of people who are quite turned off by the church deal. This is not so much because church is a bad idea, but because we've kinda forgotten what church is and buried Jesus under our religious stuff that's covered up what it is supposed to be.
In the Bible the word "church" simply means a gathering of folks — it's not even a particularly religious word. But when the folks getting together were people who followed Jesus, it was real church: a gathering of people whose hearts were captivated by Jesus. Yet I find so much of what we talk about, teach about, preach about, is never filtered through the Jesus deal.
I'm not so sure we check out what Jesus said or what He did or how He treated people to see if the stuff we are saying in church fits with the Jesus deal. We just see if … 1) we agree … 2) if it agrees with what we've heard before … 3) and if it fits our bend and color on the Christian rainbow. I wonder how much would change if we simply would ask the question: "Okay, based on how Jesus treated people and what He said, does what we are saying really fit?"
When Paul gave his famous memory verse on the Scripture being "inspired" and all, he pretty much tells us that Scripture helps us find deliverance from all our crud ("salvation") if we run it through the Jesus deal — "the sacred writings that are able to make you wise unto salvation through faith in Christ Jesus" (2 Timothy 3:15-17). John starts his message about Jesus by saying Jesus is God's Message (John 1:1-18) — not part of it, but the whole of it. The unknown author of Hebrews, led the Spirit, said that Jesus is God's complete message for these last times (Hebrews 1:1-3). So why don't we listen to Jesus, just like God told Peter, James, and John to do on the mountain? (See Matthew 17:1-5!)
As I visited the other day with a friend who has struggled with what the Bible teaches on a certain subject — and trying to come to a clear decision about the subject  because her life was once blown apart by her own sinful choices — I challenged her to call her spiritual problems by the name of a different sin and then go read the four Gospels (Matthew, Mark, Luke, and John) and decide what Jesus would say to her. She had gotten so hung up in the two thousand years of debate about her issue, that she had forgotten to look at the real issue: what Jesus taught and demonstrated about God's grace, forgiveness, and cleansing. All I was asking her to do was quit focusing on the legalistic technicalities of an issue that religious leaders have fought about since before Jesus was born. Instead, I urged her to listen to the Jesus deal. Her answer became a whole lot clearer!
So with the help of the Holy Spirit, I'm going to do my best to make sure when I speak, the Gospel is there. I want my teaching to pass through the Jesus filter and folks to know that when I speak, they're hearing the Jesus deal and not just some dry, academic dissection of a religious argument. That doesn't mean I don't study, or get sloppy, or resort to slogans. But it does mean I've got to go back to original, deepest convictions about my ministry: I've put here to call people back to knowing Jesus. He's the real deal or there is no deal … at least not a deal worth taking.
Years ago, when I was a university student — yes, they actually had universities back in those days — a fellow by the name of Charles Hodge came and spoke to folks looking at ministry in churches as their calling. Charles was known as a voracious reader, reading at least one new book a day. He always had books and a dictionary in his briefcase no matter where he traveled.
He was invited to speak at a week long revival — many folks called these "Gospel Meetings." Since Charles didn't know these people and they didn't know him, he was hoping for a bit of an introduction to kinda break the ice before he spoke each night. Each evening, however, the guy introducing him was very succinct and said something like, "Our speaker tonight is Charles Hodge, a minister of the Gospel."
Now Hodge told us clearly that this introduction should have been enough and that being entrusted with sharing the Gospel was a privilege indeed. However, on the last night of the revival, Charles knew that many who were lost would be there. He was hoping for a bit more of an introduction to help these folks know that he hadn't fallen off the turnip truck and ended up in their town by some quirk of fate. So he asked the fellow introducing him to help him out a little bit more in his introduction for the sake of his credibility with these folks who needed to hear the Gospel message.
Sure enough, on the last night of the Gospel Meeting, the man introduced him this way: "Our speaker tonight is Charles Hodge, a minister of the Gospel and model preacher."
It wasn't much different than the previous nights' introductions, but he felt good about it. "A model preacher! Hmm, that's a nice description," he thought to himself. Yes, he felt good about that description … until he started heading home and decided to pull off to the side of the road and look up the word "model." One of the definitions for the word "model" he found in the dictionary was this: "a small imitation of the real thing."
Ouch! A small imitation of anything seems more like a bunch of nothing. We laughed, and many times since then, I've found this definition of myself to be so convicting and accurate — I fear at times that I am a model minister, "a small imitation of the real thing."
In addition to Hodge's story, I also remember one strong challenge Brother Charles gave to all of us who listened to him: "Read through the pastoral epistles (1 Timothy, 2 Timothy, and Titus — links bring up Bible verses in a pop out window) once a week for the first ten years of your ministry." I thought of that again last night as I began reading 1 Timothy 1 in the Easy to Read Version, which is so clear as it accurately translates Paul's words to his beloved sons in the faith.
Now that I am older, some of the things said here are even more important than they were when I had to heed the call to "Let no one despise your youth, but set the believers an example in speech and conduct, in love, in faith, in purity." (1 Timothy 4:12 RSV). I look forward the next couple of days to hearing afresh these words of guidance to young ministers … and older, balding gray headed ones, as well.
After thirty hours in transit from Entebbe Airport to good ol' Abilene, Texas, I'm back home with my family. Words cannot capture the full emotion of this trip to Uganda. I will, however, share a few thoughts and a video by one of my blogger friends to give you a glimpse of our appreciation and the importance of this ministry
The world is full of hard places and hard people. There are clearly places where darkness reigns. We were introduced to the realities of this darkness as twenty or more folks in their best clothes, and carrying plastic bags full of their life's belongs, got onto our plane in Nairobi as we were traveling into Uganda. They were leaving their homes to escape the violence in Kenya. We experienced this overwhelming challenge as we entered deep into the heart of Kampala's slums for home visits.
There are also many who are determined that the words "amazing grace" are more than just religious talk. We met a few others committed to be outposts of God's Kingdom of grace and hope. I think of Andrew, who quietly slipped into our circle as we worshiped and shared the Lord's Supper on our last Sunday morning in Africa. Andrew is a native Ugandan who is helping others build housing for HIV-orphaned chilren.And our hearts were touched with a couple who have two "bio-children" who joined our group traveling back from Brussels. They had adopted two girls from Liberia and were returning home. We also were privileged to meet several young adults whose lives were changed by Compassion sonsors. We are convinced they will help change the future of their country for good and for God.
I deeply apreciate your prayers and words of encouragement while our group has been gone. Your comments and emails have been a continued blessing as we fought through jet lag, very little sleep, Internet challenges, and deep emotions hard to capture with our feeble words or contain in our hearts.
Please accept my heartfelt gratitude for your prayers. The impact of the trip and our good health are both clear testimonies to your faithfulness. We know good results will continue to be felt as more children are sponsored and thousands of people know about this great opportunity to help make a difference in the lives of children.
To my fellow traveling bloggers, please know my deep love and respect for you, your love for the Lord, and your desire to see the light of God's Kingdom shine in dark places that need grace. What an honor to travel with you and to share in God's sense of humor, creative diversity, and power to use such a interesting and talented group of people.
Most of all, for those who have sponsored a child, a "Thank you!" is not enough. My words of appreciation are not close to being adequate. So I hope that Shaun Grove's video about "Brenda's House" will help you know the kind of power you can have in the life of your sponsored child. Please don't forget to write to them and pray for them. You have no idea how treasured you will be to this child you sponsor. Many of the children we met had saved every letter they have ever received from their sponsor. And if you want to have a taste of the difference you can make, please take a few moments and get a glimpse of the kind of impact your love can make!


Driving back to the hotel after a long day, I was "wierded out" at the sight of two pearly white manikins standing out front of a clothing store wearing red clothing. The display would have looked strange in any city, but here in Africa, bright white manikins just seemed over edge of the "bizarre-ness" meter.
But that wasn't the most out of place sight I saw on the trip back. The other was a guy yelling at the top of his lungs standing on a street corner. He slammed his fist on the Bible as he bellowed. While I couldn't understand all the words he was screaming, he did make it clear that he was warning people about hell. It was also obvious that his message was missing it's mark. As someone on our bus observed, this was the only abandoned street corner that we had seen the whole time we had been in Kampala. People were avoiding this guy like the plague — they moved to the other side of the street long before they reached him, and if they couldn't avoid him, they sped up their pace and made sure not to look his way as they raced past him. Even though I believe he was on that corner with good intentions, he clearly had a serious methodology problem to go along with his faulty understanding of the Good News of Jesus.
In a country trying to escape from poverty and from crushing public health issues, yelling a message devoid of grace and randomly warning people about hell wasn't winning any converts and sure wasn't helping anyone I saw escape from their own private hell. From my vantage point, his approach sure didn't appear to be following Jesus' model of ministry, either. Jesus preached and taught in appropriate places, and he also healed and liberated folks from the bondage when and where needed. But unlike our street corner-preacher, Jesus attracted huge crowds and changed innumerable lives (Matthew 9:35-38).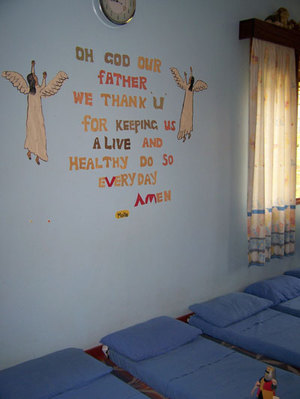 While in Kampala, we got to share in a partner effort of Compassion International. Compassion uses this service as they seek to pattern their work with children after Jesus' approach to ministry. I can assure you that their results are far different, and much more encouraging than the guy preaching on the street corner in Kampala. And the projects with whom they partner also call people to genuine discipleship, but in the context of wholistic ministry to the complete person — heart, soul, mind, and strength (cf. Mark 12:30).
Compassion has partnered with The Mildmay Centre in Kampala, Uganda. This is the leading HIV research and treatment center in Africa. We toured the both sides of the center this morning, the outpatient treatment center and the childcare and inpatient hospital for children that are HIV positive. We saw hundreds of people receiving care, children and adults.Uganda was the first African country to acknowledge their need for help with the HIV epidemic and has taken dramatic steps to address this issue at each of the crucial levels — moral, spiritual, emotional, and physical (heart, soul, mind, and strength). Yet so many are trapped in poverty and all it brings with it — poor hygiene, lack of information, despair, and lack of transportation. The Mildmay Centre is a key component as Compassion plugs into their services for children and their families.
The training, treatment, and support that Compassion offers those diagnosed HIV positive, along their families, makes a difference in the lives of real people and real children. This is true in the life of our Compassion child. Through the church project where she is involved, our Compassion child's mom has been to training to improve her health, hygiene, and habits. They have worked to prevent the condition from being passed on to our Compassion child. So you see, these programs, and these results are not theoretical chunks of data from a place far away. They are personal and real to me and to a child I've held and hugged! This holistic approach to Jesus' message of the Kingdom is our Compassion child's only hope in this world.So many approaches to problems today make no more difference than the strange manikins on display or the well-intentioned street-corner screamer warning about hell. Political battles in government, and sadly in our churches, sidetrack our focus on Jesus-style ministry. However, some approaches are making a difference in the lives of many people … some of these are people we know and love … and part of the reason they are effective is because they are patterned on Jesus' ministry to the whole person!
Jesus went through all the towns and villages, teaching in their synagogues, proclaiming the good news of the kingdom and healing every disease and sickness. When he saw the crowds, he had compassion on them, because they were harassed and helpless, like sheep without a shepherd. Then he said to his disciples, "The harvest is plentiful but the workers are few. Ask the Lord of the harvest, therefore, to send out workers into his harvest field." (Matthew 9:35-38 TNIV).
Read that last sentence again, please. Then realize, you might just be the answer to my prayer for more workers for the His harvest field and a child's hope for life now and for eternity! Sponsor a child and change the future. (And in tomorrow's Heartlight.org article, I'll share with you just how big a difference some of these things have made in the lives of emerging leaders!)