Archive for the 'forgotten' tag
"What would good people do if the wicked destroyed all that is good?"
The psalmist, David, asks this question in Psalm 11:3 (ERV). However, all three psalms in our reading today (Psalms 10-12) focus on this same basic issue. Those who scorn the will and the way of God have not only abandoned the poor, the needy, the helpless, the orphan, and the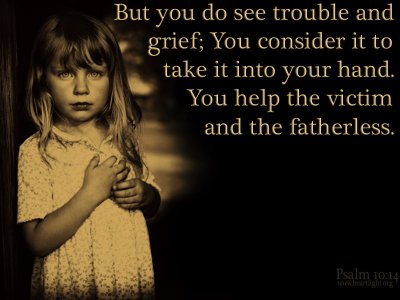 good people, but they also have abused, taken advantage of, and brought injustice upon them. They assume God doesn't care, if of course, any god is there at all. They bring evil on the powerless and curse God on whom these helpless call.
//Inspiration: Psalm 12:7-8 (ERV)
LORD, take care of the helpless. Protect them forever from the wicked people in this world. The wicked are all around us, and everyone thinks evil is something to be praised!
//Incarnation:
When your heart is focused on something and go back and read familiar Scriptures, an amazing thing happens: you see things emphasized in God's word you never noticed before. As my heart has turned to the poor in recent days, especially the poor children of Uganda, I have been overwhelmed at what God has been saying to me from the Gospel of Luke and now the Psalms. I don't know if this is part of His plan to etch His will on my heart. Some of my Heartlight.com friends would call this not a coincidence, but a "Godincidence"!) Or this could simply be that my eyes are open to read the Scripture from another vantage point. All I know is that my eyes have been opened and that God has etched some newly discovered truths deep in my heart. Those who suffer from evil in both high and low places of authority are always the poor, the helpless, and the children. So we do cry out to God. And I will let my prayer, my invitation to God tonight be the words of the psalmist.
//Invitation:
LORD, get up and do something. God, punish those who are wicked. Don't forget those who are poor and helpless. And, dear Father, I pledge to do what I can to help those who are forgotten, abandoned, and abused in Your name. Through Jesus I pledge this and ask for Your intervention in our world. Amen.