Archive for the 'faith' tag
This is a strange intersecting point — trying to find my focus each day in the Lord's Prayer and listening to the old story of David and Goliath, today. But it is an instructive intersection between the most prolific prayer warrior of the Old Testament and the simple prayer instruction of the Son of David, Jesus our Lord. One line especially begs to be prayed today. "Our Father in heaven … lead us not into temptation, but deliver us from the evil one"
This prayer of deliverance can be used as an escape from harm's way — I'm sure I've used it for that in the past. But for David, it was an invitation to rely on the power of God to deliver His people from evil by personally facing down "the evil one" face to face.
The young David, hearing the taunts of Goliath, becomes incensed and picks up five smooth stones as he goes off to silence the mocking voice of the giant who struck fear in the heart of Israel's seasoned soldiers. He calmly asks:
Smooth Stone One:
"What will be done for the man who kills this Philistine and removes this disgrace from Israel? Who is this uncircumcised Philistine that he should defy the armies of the living God?" (1 Samuel 17:26)
After being ridiculed by his brother Eliab as just a conceited little shepherd boy, David speaks his mind, reassuring the King that he is willing to step up to moment and fight the giant that none of the King's warriors would fight:
Smooth Stone Two:
"Let no one lose heart on account of this Philistine; your servant will go and fight him." (1 Samuel 17:32)
Most folks know the rest of the story. David goes off to face the giant warrior of Philistia with his shepherd's staff and a sling shot. And although the armor of a warrior is uncomfortable and discarded, David goes with something much more important. Faith validated by experience:
Smooth Stone Three:
"The LORD who rescued me from the paw of the lion and the paw of the bear will rescue me from the hand of this Philistine." (1 Samuel 17:37)
David goes knowing that the battle is not about the weapons of war, but about the power behind the weapons. As the giant mocks David as a mere boy coming against him with a stick, stones, and string, David replies:
Smooth Stone Four:
""You come against me with sword and spear and javelin, but I come against you in the name of the LORD Almighty, the God of the armies of Israel, whom you have defied." (1 Samuel 17:45)
As the story ends and David claims his reward, King Saul asks him who he is. David answers with the humble heart of a servant shepherd boy, one who knows the battle he has won should bring glory to father and his God:
Smooth Stone Five:
"I am the son of your servant Jesse of Bethlehem." (1 Samuel 17:58)
So today, as I pray this prayer that Jesus asked me to pray, I hear things in a little different way:
"Our Father in heaven,
hallowed be your name,
your kingdom come,
your will be done,
on earth as it is in heaven.

Give us today our daily bread.

And forgive us our debts,
as we also have forgiven our debtors.

And lead us not into temptation,
but deliver us from the evil one.

For yours is the kingdom and the power
and the glory forever. Amen."
And Father, give me the courage to face my giants so that your deliverance is possible in my life and in the lives of your people. Amen.
Last Updated 9.14.08
Going Organic (1:3-10; 2:19; 4:5-6) – 9/21
There is great power in the good news about Jesus to produce fruit – changed lives of faith, renewed hope, and love modeled on the Savior and empowered by the Spirit.
This power of grace crosses cultural and racial boundaries and leads others to Christ and his joy [Harper Testimony @ China?]
Look forward to Balloon Fest & Celebration Sunday (1 Peter 3:15-16) and hear a real call to be a front porch people of God – the way we talk to others is crucial [Wait Staff Testimony]
There is a great power in the Gospel as a seed – Jesus' Parables (Mark 4 & Matthew 13) – and Satan can't stop it. We can choose what kind of soil we are, the evil one can try to do everything he can to stop it and corrupt us, but there is great power … that nothing (as we saw last week with persecution) can stop! But there are things that keep us from being fruitful (Parable of the Soils, Fish, Tares) which are all the work of Satan and his forces! But Jesus has already triumphed (2:13-15).
Daybreak Focus
Idea Image: Power of one seed to grow in harsh places and change everything [i.e., post glacial growth in Alaska that begins as rock, then simple plants, then complex plants, then forests.] Same should be true in us as we seek after Jesus, we change the world around us and God grows US together, as community, into a place of blessing.
There is something "hardwired" in the DNA of the good news of Jesus, and in us as His followers, that is all about growth — growth in numbers ("all over the world"), knowledge of God and His will, and growth in spiritual character (faith, hope, love) — cf. 2 Corinthians 3:18; Galatians 5:22-23. While we have to make an effort to grow to be like Jesus (2 Peter 1:3-10), our growth in the qualities of the Lord are "Spirit-natural" (Remember the parables about the seed and the harvest!) and the result of seeking after Jesus. So let's seek after Jesus (Bible Class emphasis and reading focus) must be our passion.
Refresh Focus
Emphasize that there is something "hardwired" in the DNA of the good news of Jesus, and in us as His followers, that is all about bearing fruit — about organic Spiritual growth. The Alaska image is good here, but for it to happen fully, each generation of plant life must produce fruit and also offer up itself to grow and provide for what follows. Fruit principle will lead into the Lord's Supper time.
Sundown Focus & LIFE Groups

(Look at the parables of Jesus for inspiration here, especially Luke 8:1-15; Mark 4:26-32; Matthew 13:24-30).
What keeps the "Spirit-natural" growth from happening in us? What keeps the Word from growing?
Which of the problems with growth keep you from growing spiritually?
Which of these is most challenging to spiritual growth for you?
What should we do with others who are not growing? … not even trying to grow?
Should we expect growth — spiritual, numerical, character — to be a natural process?
Is growth an easy process? In what ways does Jesus suggest that Kingdom growth is mysterious and easy, yet in other ways is very challenging?
What is our responsibility to grow and help the Kingdom grow?
iSpy
I Owe My Soul to the Company Store [Joe vs. Volcano]
O God Whose Name I do Not Know I thank you for my life
Monday, I finish my series on the seven sayings of Jesus, with a post called, "Splashdown."
All along the way as we grow up, we learn to either trust or doubt those around us. It's not easy once trust is broken. But, there are great lessons to learn from this process once we realize that God has not only given us permission, but also given us His Spirit, so we can approach Him as our Abba Father.
I relate in the post the experience of teaching my daughter to jump off the side of the pool. For me, this is a great metaphor for my challenge to trust God with a "leap of faith" at different points in my life. I see this as fitting for a number of others. Right now I am trying to minister to both young adults launching into life on their own and facing the challenges of trusting God with their future. They are facing the crucial faith challenge of owning their own faith and launching into life trusting Him. I am also trying to encourage and support several who are facing hard battles with illness and possible death. Others are facing financial challenges with the economic times. Each of these requires a longer leap of faith than they have had to make before. Trusting God for that leap, that launch into the unknown for them, is both a challenge and an opportunity to know God in fresh ways.
What is the hardest "leap of faith" you have had to make?
How can Jesus' example of trusting Abba Father help us?
What are some other examples of a child trusting a parent that remind you of Jesus trusting his Father?
I'd love to hear from you in the response area below!
Several days ago, I sat with a friend who was sick from a powerful chemo cocktail. This was the second round of this person's battle with cancer. Though a person of strong faith, that faith was a battle every day because of the the physical illness, weakness, and emotional roller coaster caused by the combo of powerful drugs.
Several days after our visit and frank, but tender conversation, I found the image below. I was drawn to it for many reasons. One reasons was because we battled for years to find images of faith that pictured people of color — I have often used this as an example of "institutional racism" that us white folks often don't notice. This image, however, is a powerful statement of faith, and it caught my eye immediately. A second reason I love the image, is the lighting — if you have ever been in a battle of life and death and experienced the grace of God's light invading your darkness, you know what I mean. Finally, my meanderings around in the Psalms led me to this powerful verse (Psalm 49:15), which seemed to articulate for me, the prayer and faith hidden in the image:
But God will redeem my life from the grave; he will surely take me to himself.
Here is a small version of the image. It doesn't really do it justice, so I've included links to the full sized images that are prepared for Heartlight.org and the free Scripture graphics there.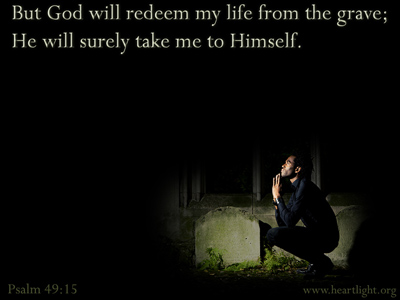 You can find three versions of this image, Text (pictured above), Title (my personal favorite of the three), and Plain (only the image on a black background, but still very powerful).
You might, at first, think of this as a verse of resignation — giving up and saying, "OK, God, I know I'm going to die, but I trust you will bring me to yourself." And granted, it can mean this and should offer us comfort. God will not abandon us to the grave. He will bring us to himself. Faith in the face of such things is a powerful and comforting blessing.
But I also think of Hezekiah, who found out he was going to die and then prayed with Isaiah, and God redeemed his life and granted him fifteen more years of life (2 Kings 20:1-6). I am also reminded of my friend, Saundra, whose liver tumors vanished "without explanation" between the time other malignant material was removed from her and her trip to MD Anderson in Houston to one of the few surgeons who could do the surgery she needed at the time. She is still alive today nearly two decades later.
Yes, we are all going to eventually die. But my whole being believes that God does redeem our lives from the power of the grave. He does this sometimes by rescuing us from immediate death and brings us to himself, bringing healing and granting us more years on this earth. He also does this sometimes by rescuing us through death and bringing us to himself to await the glorious day of Jesus' return. Paul says it well, and I will end today on this note:
Yes, and I will continue to rejoice, for I know that through your prayers and the help given by the Spirit of Jesus Christ, what has happened to me will turn out for my deliverance. I eagerly expect and hope that I will in no way be ashamed, but will have sufficient courage so that now as always Christ will be exalted in my body, whether by life or by death. For to me, to live is Christi and to die is gain (Philippians 1:18b-21 tniv).
Today, we're also joining Randy Elrod with Watercooler Wednesday — How to Recycle a Church?
The LORD is my light and my salvation—
whom shall I fear?
The LORD is the stronghold of my life—
of whom shall I be afraid?
When the wicked advance against me
to devour 1 me,
it is my enemies and my foes
who will stumble and fall.
Though an army besiege me,
my heart will not fear;
though war break out against me,
even then I will be confident.
One thing I ask from the LORD,
this only do I seek:
that I may dwell in the house of the LORD
all the days of my life,
to gaze on the beauty of the LORD
and to seek him in his temple.
For in the day of trouble
he will keep me safe in his dwelling;
he will hide me in the shelter of his tabernacle
and set me high upon a rock.
Then my head will be exalted
above the enemies who surround me;
at his tabernacle I will sacrifice with shouts of joy;
I will sing and make music to the LORD.
Hear my voice when I call, LORD;
be merciful to me and answer me.
My heart says of you, "Seek his face!"
Your face, LORD, I will seek.
Do not hide your face from me,
do not turn your servant away in anger;
you have been my helper.
Do not reject me or forsake me,
God my Savior.
Though my father and mother forsake me,
the LORD will receive me.
Teach me your way, LORD;
lead me in a straight path
because of my oppressors.
Do not turn me over to the desire of my foes,
for false witnesses rise up against me,
spouting malicious accusations.
I remain confident of this:
I will see the goodness of the LORD
in the land of the living.
Wait for the LORD;
be strong and take heart
and wait for the LORD.
\o/ — Comments Psalm 27: I will see the goodness of the LORD! — \o/
The LORD is my light, my salvation, and the stronghold of my life. I believe that. I build my life upon that assurance. I trust this is true.
Even in times of distress, I want to be able to say with integrity and confidence, just like the psamist here, I will see the goodness of the LORD in the Land of the living. I believe the Father not only has a place prepared for me with Him eternally, I also believe that the LORD is working in my life to bless me now. Sometimes, however, I miss seeing those blessings because I am impatient or want them to come to me in different ways.
Yet for me to fully appreciate God's blessings, I must be willing to wait on the LORD's timing and grace. I need to be strong and take heart. I can do this, because just like the apostle Paul, I know whom I have believed, and am convinced that he is able to guard what I have entrusted to him until that day (2 Timothy 1:12 TNIV).
So the challenge for me today is to wait … to trust … and to be faithful, all while anticipating the LORD's blessings in my life. I will wait on the LORD!
Mark has been a friend since college. He's spent time in "full time" ministry on staff with churches. Now, he works as a builder, but still does full time ministry with his wife influencing young couples to follow Jesus.
He had called simply to share an affirmation about someone who has a low wage job that serves people, but which is not very respected by most folks. He was bragging on Roy and how amazing he thought it was that Roy could serve in this position for 23 years and still have such a good attitude toward people, many who treat him poorly, or at best, as invisible. Mark was praising Roy for his staying power and faithfulness.
As a minister, I don't get a lot of calls bragging on someone for doing good things. It's the unfortunate sign of our times that we focus so much energy on finding negative things and then repeating them to others. We seem to find those negative things more easily and hang on to them more tenaciously. But not Mark. I was thankful to have this good dose of blessing and encouragement in the middle of a busy day.
Then Mark went one step further: he asked to be the first person who prayed with me for my trip "right now" before I left for Uganda with Compassion International. Mark has been a youth minister and a young single adult minister: he knows how important it is for kids to come to know Jesus before they hit their twenties. The words of his intercession washed over me like a shower of grace. What a blessing.
I would love it if you would be in prayer about this upcoming trip as we try to find monthly sponsors for at least 500 children. For just a little more than a dollar a day, you can join in me supporting a child (we actually support two) and help them with the basic necessities of life and do this in the name of Jesus.
I covet your prayers, so if you would be willing to be a part of the prayer team for me while I'm on this trip, please follow this link and leave a response to the information there. Also, you want to read my companion article to this post on Heartlight, called "My Deliverer" from the Rich Mullins' song. What are some other ways to help us be a deliverer for children in need so they can ultimately find the great Deliverer. Let me hear from you in the response are below!