Archive for the 'cemetery' tag
Several days ago, I sat with a friend who was sick from a powerful chemo cocktail. This was the second round of this person's battle with cancer. Though a person of strong faith, that faith was a battle every day because of the the physical illness, weakness, and emotional roller coaster caused by the combo of powerful drugs.
Several days after our visit and frank, but tender conversation, I found the image below. I was drawn to it for many reasons. One reasons was because we battled for years to find images of faith that pictured people of color — I have often used this as an example of "institutional racism" that us white folks often don't notice. This image, however, is a powerful statement of faith, and it caught my eye immediately. A second reason I love the image, is the lighting — if you have ever been in a battle of life and death and experienced the grace of God's light invading your darkness, you know what I mean. Finally, my meanderings around in the Psalms led me to this powerful verse (Psalm 49:15), which seemed to articulate for me, the prayer and faith hidden in the image:
But God will redeem my life from the grave; he will surely take me to himself.
Here is a small version of the image. It doesn't really do it justice, so I've included links to the full sized images that are prepared for Heartlight.org and the free Scripture graphics there.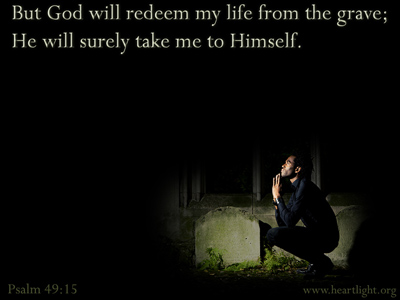 You can find three versions of this image, Text (pictured above), Title (my personal favorite of the three), and Plain (only the image on a black background, but still very powerful).
You might, at first, think of this as a verse of resignation — giving up and saying, "OK, God, I know I'm going to die, but I trust you will bring me to yourself." And granted, it can mean this and should offer us comfort. God will not abandon us to the grave. He will bring us to himself. Faith in the face of such things is a powerful and comforting blessing.
But I also think of Hezekiah, who found out he was going to die and then prayed with Isaiah, and God redeemed his life and granted him fifteen more years of life (2 Kings 20:1-6). I am also reminded of my friend, Saundra, whose liver tumors vanished "without explanation" between the time other malignant material was removed from her and her trip to MD Anderson in Houston to one of the few surgeons who could do the surgery she needed at the time. She is still alive today nearly two decades later.
Yes, we are all going to eventually die. But my whole being believes that God does redeem our lives from the power of the grave. He does this sometimes by rescuing us from immediate death and brings us to himself, bringing healing and granting us more years on this earth. He also does this sometimes by rescuing us through death and bringing us to himself to await the glorious day of Jesus' return. Paul says it well, and I will end today on this note:
Yes, and I will continue to rejoice, for I know that through your prayers and the help given by the Spirit of Jesus Christ, what has happened to me will turn out for my deliverance. I eagerly expect and hope that I will in no way be ashamed, but will have sufficient courage so that now as always Christ will be exalted in my body, whether by life or by death. For to me, to live is Christi and to die is gain (Philippians 1:18b-21 tniv).
Today, we're also joining Randy Elrod with Watercooler Wednesday — How to Recycle a Church?