Archive for the 'Uganda / Compassion' Category
I do not know about you, but I get fed up by all the trash on TV and the web. Even worse, is the trashing of other people that goes on via the web. But rather than become part of the trash talking and trash serving side of the web, I want to remind you of the good side to the web and challenge you to do good via the net!
Heartlight.org started on April 3 in 1996. By God's grace, we reach hundreds of thousands of different folks every month, ten of thousands a day. These folks come from over 175 countries. They use our Heartlight.org resources — articles, devotionals, graphics, and blogs — to help bless their own lives and the lives of others. Only God knows how many people are blessed downstream from these first time users. But Heartlight.org is much bigger than just our main web site. In addition we provide or are partnered with the following free resources:
This is just our little corner of the world, but let's talk about doing good, working for social justice, and making a difference in the lives of others in real ways. Several interests I have and am invested in personally seek to do good in the world by releasing children from poverty in Jesus' name, providing clean water, providing mosquito nets, giving business opportunities through mico-loans, and other tools for people who do not have access to those.
Compassion International is a favorite ministry for doing good for children. Donna and I currently sponsor three children and I have been to see one of them on a Compassion trip to Uganda, Africa in February of 2008. This life changing trip was a great opportunity for several of us who were on the web to create a buz and get a lot of folks more involved in sponsoring children through Compassion. Here's the YouTube video of my home visit to our little girl:
You can read more about this visit in my Heartlight article.
In addition to Compassion, several other related "do something good" efforts made possible by the web that I like are:
Don't know what you are doing for Christmas, but how about using the upcoming holidays to center your family on giving to those in need and purchasing gifts that help lift people out of poverty. Fed up with what's bad? Then join me and others who are using the web to do good, work for social justice, and give folks a chance to do something better in their lives!
He has shown all you people what is good.
And what does the LORD require of you?
To act justly and to love mercy
and to walk humbly with your God (Micah 6:8 TNIV).
Risk for God! It's not a suggestion, it's a way of life … the way of life God called us to embrace!
Folks are off and headed out for Spring Break campaigns — I've got kinfolks headed out of the country and last year I went to Uganda with Compassion International myself. All of these folks are jumping in and serving and risking and doing great things for God. Others I know are involved with church planting efforts and house church efforts. One brother in Christ and his family left business and went back to school to prepare himself to be a church planter.
Far too often we try to play it safe and never really do what our hearts call us to do and spirits hunger for us to do. The tottering economy and a host of other things intimidates us and backs us down from the adventure of faith. So for the next several days, I'd like to nudge us in the direction of taking risks for the Kingdom and give you some interesting things to think about and see — from passages of Scripture to Heartlight.org articles to video resources to check out.
For some reason, those who take a biblically conservative view of Scripture often fear risking anything — risking their point of view, their physical safety, their approval from God — and playing it safe. However, the more literally we take the words of Jesus and the examples of the early followers of Jesus, the more we should be willing to risk almost everything for the sake of the Kingdom.
So … today, I want to point you in the direction of a Heartlight.org article and a video.
The article is entitled "Step into the Water" and calls us to have the kind of faith the children of Israel had to cross the Jordan River. It's worth a peak!
The video is entitled "Uncontrollable Current" is available on Highway Videos.
Okay, so my last several blogs have been focused on community and some of them have been a bit tough. So I promise to give you some funny and sweet things this week on the video front.
My only regret on the following video is that I didn't send it out a week ago to all my buds to warn them of the dangers of blowing up Valentine's week. Thanks to Jonathan Ross for this classic music video of warning for the guys among us. It's called "The Don't Song."
So what's your reaction to the song?
If you do not see the video on this page, then take a peak at the WorshipHouseMedia.com website!
My heart is in the Dominican Republic tonight! I know all the focus here in the U.S. will be on the elections on Tuesday — and I do challenge us to prayer and fasting about this in my Heartlight.org post this week. However, a group of Compassion bloggers left for the Dominican Republic Sunday and that is where my focus is tonight. During our prayers tonight, Donna not only prayed for our Compassion Children we sponsor, she also remembered to pray for those headed to D.R.
I was blessed to go on the trip to Uganda, Africa, in February of this year. It was the first Compassion Bloggers trip and it was truly a life changing experience. So those traveling to D.R. are in my prayers and I will have to say, I am a bit envious of them. They are traveling with great people — thanks Brian, Keeley, and Shaun — and traveling to help folks know more about a noble cause. In addition, we are in focus on this trip because on our sponsored children is from D.R.
Blessings to all going on this trip and my prayer is that you touch many folks with the opportunity they have to make a difference in the lives of families and help in the mission of "realeasing children from poverty in Jesus' name." I encourage you to keep up with the trip on the Compassion bloggers website!
It was such an innocent request with a seemingly simple answer. "What else can I get you for you birthday?" The question was directed to my wife, Donna.
Now let me explain: birthdays are big deals around these parts, so a request like that can get one a might over committed … if you know what I mean. So as Donna thought things over for a few minutes, I waited impatiently, hoping to snag the last of my elusive birthday shopping before the rush.
"I really think I would like another child," she said almost nonchalantly. The words hung in the hair as we pondered them. Something about the phrasing sounded humorous at first, but then the seriousness of her request tugged at both of our hearts. I knew exactly what she was talking about after a few minutes of reflection.
Now for us to have a physical child the old fashioned way is a bit over the fantasy line. Let's just say we had several factors working against us. What Donna was talking about was sponsoring another child with Compassion International.
We were currently sponsoring two children at the time, Starlin and Doreen. They are precious to us. As Donna pointed out, "I have pretty much everything I need and I want to do something help a child who has nothing. It breaks my heart to see these little ones who have been on the waiting list so long."
So for Donna's birthday, we sat down and looked through children who had been on the waiting list for a sponsor more than six months. Our problem wasn't finding a child, but having to choose from so many. How do you decide? How can you turn any of them down?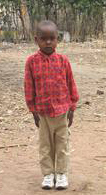 Each face tugged at our heart, but one little boy grabbed much more than our attention. He was trying to stand so straight and tall. He wore his best clothes — or maybe borrowed ones. The earnest look on his face spoke of his desire to impress someone on the other side of the camera lens. Yes, Raymond, your hope has become our gift. Thanks, little guy, for being so much more than a birthday gift. May God bless you on your journey, may Jesus be real to you in the days ahead, and please know that you are gift from God to us.
Since I was blessed to visit with one of our Compassion children in Africa this past February, we feel a special pull to this wonderful continent so full of precious children who face such deep need. So now we have our children on the other side of the world that we keep in our prayers, share messages, and help provide a future for just a little more than a dollar a day. What greater gift than this?
So please, take a look and I think you might just find a child looking for a sponsor that touches your heart and changes your world.
Me talk about dresses? Me? Yep.
Those who know me know that I'm no fashion expert. Dresses are not my specialty. So, I will make one fashion observation about the little girl and the dress pictured here: cute! Okay, I know that's not overly elaborative, so I'll add, precious!
This is a 7 pocket dress from the group Pocket of Dreams. You can read about it today in Heartlight.org. It's an effort to give folks a good product (a cute dress for a precious child) that helps women and children in Uganda in very tangible ways.
As many of you know, I went with a group of Compassion Bloggers to Uganda this past February, so this kind of effort is near and dear to my heart. We sponsor three children through compassion — I'll tell you more about our third compassion child tomorrow — but this is a way to help families that gives us a real connection and provides real help. I hope if you have a cute and precious little girl or granddaughter or niece or friend or … you will check out Pocket of Dreams and give a gift that touches many more people than you know on this side of heaven!