Archive for the 'Southern Hills Church' Category
In a special Christmas post on Heartlight.org this morning, I talk about an "Out of the Box Christmas" — one that focuses more than on boxes of presents and boxes full of people (church buildings). There are several examples of things people can do as individuals and groups to help others and make a real difference in the name of Jesus!
I'd love to get your reaction and further ideas on ways to serve this Christmas season and throughout the year!
I'm sitting here at my beloved MacBook keyboard still drippin' wet from working out this morning. Since returning from our trip as a family, I've rejoined the world of the committed to exercise, dropping weight, and eating properly — in other words, that "Big Guy" would just like to be that "Medium-sized Guy" once again!
As with any discipline, the first week back in the trenches of hand to hand combat with your own lack of discipline in an area of your life is tough. But alas, it is right … past due … and needed. So, I pedal forth and push onward seeking to leave bits of my former self in my vapor trail.
Meanwhile, we launch into some exciting stuff with Colossians and different types of targeted worship gatherings in August, so there is much work and prayer and study in prep. This one I'm not drippin' with sweat, but drippin' with great anticipation. Whether you want to call stuff missional (ah yes, all the rage the last few years in churchland lingo) or targeted or strategic, my hope is that it is a return to the integrity of real community and devotion (Acts 2:42-47 NLT).
Click the link above and notice that these early followers of Jesus were devoted to four things (vs. 42):
the apostles' teaching

fellowship

sharing in the Lord's Supper

prayer
What I find most interesting is that most folks miss Luke's definition of each of these four in the verses that follow (click the words and see Luke's description:
Even more impressive, they were devoted to these things — not just individually, but as a community. So while I'm committed to not lag behind behind in my renewed commitment to physical discipline, I'm even more committed to being devoted to seeing this kind of community truly formed in God's people in my neck of the woods. What about you?
Onward ho!
(And tomorrow or the next day, we'll poke around what each of these means!)
Summer Road Trip with Jesus through the Gospel of Mark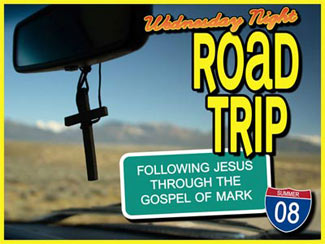 We're taking a summer road trip through the Gospel of Mark this summer. It's full of funny videos and challenging insights from John Mark, a man who grew up in the center of the action in Jerusalem, went with Paul and Barnabas on the first missionary journey, had his share of embarrassments and failures, but finally ended up as one of the most influential people in the history of Jesus' followers!
Great defensive lineman great for Minnesota Vikings, Jim Marshall, is known more for his running the wrong way than his great play over the years as part of the great Viking defensive line sometimes called the Purple People Eaters! The parody video exists because the actual one is licensed by the NFL.
Our travel guide for our summer road trip had a worse reputation for running the wrong way than Jim Marshall did … a reputation that he had to overcome:
Mark 14:50-51 – ran away naked in the night
Acts 13:13 – he deserted Paul and Barnabas in Pamphylia
Acts 15:36-41 – caused such a huge disagreement that Paul & Barnabas had a very contentious disagreement and split up their missionary team
At this point, Mark is a young of man of great potential, which all seems lost!
• Acts 12:25-13:5 – He was included in the group that came from Jerusalem to Antioch with Barnabas and Paul. He was also chosen to accompany them on what we call the first missionary journey.
• His mother, Mary, had furnished the nice, large house with servants for the early church to meet in and which became the hub of the apostle's ministry in Jerusalem (Acts 12:12) – some suggest this also could have been the place where Jesus had the Last Supper (Mark 14:12-26).
But, Barnabas was a man of encouragement (Acts 4:32-37) and a mentor of ministers and missionaries. So when the big blow up happened with Paul, Barnabas took Mark, his cousin (Colossians 4:10), with him on a missionary journey to Cyprus, while Paul and Silas headed off to Syria (Acts 15:39).
Just as Barnabas had saved Paul from the scrap heap of rejection (Acts 9:26-31; Acts 11:19-26), he also saved John Mark and made him a useful servant to the church, church leaders, and to the Lord. After Barnabas work with Mark, Mark was associated with the apostle Peter – who calls Mark his "son" in the faith. Mark was with Peter in Rome when he wrote the book of 1 Peter (5:13). He also appears about this time coming from Rome to Colossae on a mission from Paul, and Paul's language suggests that they knew of Mark's failures. Paul assures them that Mark has overcome them and they are to welcome him (Colossians 4:10; Philemon 24).
So it is not surprising that several years later, at the end of Paul's life when he is headed for execution (2 Timothy 4:6-8), Paul begs Timothy to bring Mark with him before winter sets in and travel is impossible. Why was this so urgent? Two reasons: 1) Mark was useful to Paul, and 2) Paul wants his coat, scrolls, and parchments – a coat to keep him warm and reading/writing materials to possibly discuss the Jesus story with Mark (2 Timothy 4:11-13).
But we are taking a summer road trip with Mark, so we need to ask a very basic cornbread kind of question: What makes Mark a good tour guide for us on our summer road trip through the life of Jesus?
Well, he traveled widely all over the Roman empire sharing the story of Jesus.
In addition, he had access to a lot of first hand knowledge of Jesus' life, especially in and around Jerusalem. He also knew well three great leaders and missionaries in the early church, Barnabas, Paul, and Peter. So while we know very little about Mark's formal education, he was sure in the very center of leadership of the early church and missionary effort!
But don't you think there's something even more powerful about his failures and then his reclamation that makes him a great tour guide for the life of Jesus? Doesn't that make his summary of Jesus' message all the more powerful?
After John was arrested, Jesus went to Galilee and told the good news that comes from God. He said, "The time has come! God's kingdom will soon be here. Turn back to God and believe the good news!" (Mark 1:14-15 NLT)
Finally, and a point I have never heard emphasized, but one I deeply appreciate, Mark knew the failures of great leaders in Jesus' greatest leaders, and he didn't quit: he didn't give up on himself, he didn't become bitter toward those leaders, and he didn't bad mouth the church or her leaders. As a flawed human, he knew the grace all of us need, to turn life around and start fresh! None of us fully lives up to the call of the cross, but we're all called to follow Jesus on that road, and in the process, who knows what we might see? (Mark 8:27-9:1)
Road trips are fun, but often filled with surprises – hardships, failures, and unexpected joys. Our tour guide has been met these on the road before, and he has shown that Jesus could get him through. So shouldn't we anticipate that Mark will help us do the same?
Today is WATS day!
For our church, it is a special day to gather for a shared Communion service and then go out and serve the community in very intensive, manual labor, ways. WATS stands for "We Are the Sermon." We begin the day with a shared time of worship with communion — the air is electric and people are excited, dressed in their get dirty work clothes and many pulling trailers full of yard tools. The singing is joyous and upbeat. When we finish, we break into work groups, share a quite bite of lunch, and spend the afternoon working our backsides off to bless others. It's all part of our sense of mission:
We are God's community front porch: inviting, including, and involving others in the life of Jesus.
Last year, well over a thousand people served their neighbors building wheel chair ramps, painting homes, cleaning up yard messes, restoring houses to code, and just lending a helping hand. We collected over 80 tons of debris and garbage. It's one of the coolest and most exciting church days of our year.
Here are a few links to help you know more about it:
W.A.T.S. Happening | Churchgoers Will Be the Sermon
What are some things your church family does to get outside the church building and share the love of Jesus with those in your community?
Last minute update: "Will the weather derail our day?" We'll have to wait and see!

Ever since my heart was captured by the Gospel of Luke and the companion volume called Acts, I have been convicted that God had a special heart for the city.
"Which city?" you might ask.
My answer, "Any city, but especially the big cities!"
Jesus' ministry was focused on the key cities — Capernaum and Jerusalem especially — and the book of Acts revolves around key cities — Jerusalem, Antioch, Ephesus, and Rome.
I recently received a message in my inbox that spoke so powerfully about this focus and something that has been on my heart lately. This message came in a regular email update called The Bronx Prayer Letter. In it, Jared Looney powerfully speaks about a love for the city, especially the people in the city. As I preach on Jesus' call for us to be an "ALL" focused people today — something I will discuss more with you in my Heartlight.org article tomorrow — I can't think of a more powerful way to demonstrate the love necessary to do this than Jared's letter. Be blessed: but even more, be convicted. I have been!
Dear Friends,

Lying in bed last night, I kept thinking about the faces, the names, the situations, and dramas unfolding. It is easy to look at the city, calculate its toughness and spiritual despair, and decide that "it's not for me."

Like the rest of us, people in the Bronx are deeply flawed. While part of our society wrestles with the violent sins of neglect, places like the Bronx are flawed in more obvious ways. There is a rawness to life and to relationships, and life is desperate for many. For missionaries from the burbs, it is easy to appreciate the poor when they are new and their stories inspiring, when there is a certain admiration or intrigue,when we are entering an experience that stimulates our sense of adventure. That is, before the glit and glamour of urban messiness becomes actually… messy.

In theological discussions around the country, many are renewing conversations about Incarnational ministry. That is, the Word becoming flesh and dwelling among us as a (or THE) model for ministry. However, I wonder if short term missions has sometimes skewed our view of this practical doctrine. For all the discussions of incarnational ministry, they are only discussions until the glamour rubs off and we're sharing life with other (and perhaps differently) flawed people. When Jesus repeatedly sat at the table with "sinners and tax collectors" or called fishermen who thought of children as an annoyance, Jesus shared life with them — and at the same time he was life for them. He sought their transformation, and when necesary he released them to their choices. And I'm sure with a sensitivity to sin that shadows even the holiest of consciences, he journeyed with them as their friend.

Early in this journey, the Lord impressed upon me to love the city. I knew what that meant more & more over time. The city is the people, and I love the city.

Jared Looney
You've probably heard of the old TV show Let's Make a Deal and the new, Howie Mandel and banker driven Deal or No Deal. You may have even heard the often overused expression in sports, "the real deal." But I want us to think for a minute about the Jesus Deal.
I find it heartbreaking that Jesus — who was beloved by non-religious folks and often in trouble with the religious ones –  gets buried underneath all our religious stuff. I guess I was convicted recently in listening to a friend speak. I didn't exactly agree with a tiny part of what he was saying, but the heart and the passion underneath it all really convicted me — even the part he said about church that made me a little uncomfortable. One statement, however, really tore open the rusty-hinged door to my own heart's passion: "If we are not sharing the gospel in our preaching or our teaching here, come get in our face about it."
Yeah, that's the Jesus deal. We've got to be all about sharing the message of God's good headlines about the Jesus and the lifestyle of people whose hearts are captivated by Him.
Folks can be pretty turned off about the word "church" or us referring to church. I know, because I live in a place that is supposed to be this great religious mecca, but in fact, it is full of people who are quite turned off by the church deal. This is not so much because church is a bad idea, but because we've kinda forgotten what church is and buried Jesus under our religious stuff that's covered up what it is supposed to be.
In the Bible the word "church" simply means a gathering of folks — it's not even a particularly religious word. But when the folks getting together were people who followed Jesus, it was real church: a gathering of people whose hearts were captivated by Jesus. Yet I find so much of what we talk about, teach about, preach about, is never filtered through the Jesus deal.
I'm not so sure we check out what Jesus said or what He did or how He treated people to see if the stuff we are saying in church fits with the Jesus deal. We just see if … 1) we agree … 2) if it agrees with what we've heard before … 3) and if it fits our bend and color on the Christian rainbow. I wonder how much would change if we simply would ask the question: "Okay, based on how Jesus treated people and what He said, does what we are saying really fit?"
When Paul gave his famous memory verse on the Scripture being "inspired" and all, he pretty much tells us that Scripture helps us find deliverance from all our crud ("salvation") if we run it through the Jesus deal — "the sacred writings that are able to make you wise unto salvation through faith in Christ Jesus" (2 Timothy 3:15-17). John starts his message about Jesus by saying Jesus is God's Message (John 1:1-18) — not part of it, but the whole of it. The unknown author of Hebrews, led the Spirit, said that Jesus is God's complete message for these last times (Hebrews 1:1-3). So why don't we listen to Jesus, just like God told Peter, James, and John to do on the mountain? (See Matthew 17:1-5!)
As I visited the other day with a friend who has struggled with what the Bible teaches on a certain subject — and trying to come to a clear decision about the subject  because her life was once blown apart by her own sinful choices — I challenged her to call her spiritual problems by the name of a different sin and then go read the four Gospels (Matthew, Mark, Luke, and John) and decide what Jesus would say to her. She had gotten so hung up in the two thousand years of debate about her issue, that she had forgotten to look at the real issue: what Jesus taught and demonstrated about God's grace, forgiveness, and cleansing. All I was asking her to do was quit focusing on the legalistic technicalities of an issue that religious leaders have fought about since before Jesus was born. Instead, I urged her to listen to the Jesus deal. Her answer became a whole lot clearer!
So with the help of the Holy Spirit, I'm going to do my best to make sure when I speak, the Gospel is there. I want my teaching to pass through the Jesus filter and folks to know that when I speak, they're hearing the Jesus deal and not just some dry, academic dissection of a religious argument. That doesn't mean I don't study, or get sloppy, or resort to slogans. But it does mean I've got to go back to original, deepest convictions about my ministry: I've put here to call people back to knowing Jesus. He's the real deal or there is no deal … at least not a deal worth taking.