Archive for the 'Friends' Category
I want to invite you to a sacred moment. This is where a young woman reading the Gospel of Luke with Kent, a friend of mine and mission trip partner, said the word Jesus for the first time. This is a reminder of both how blessed we are to know the Savior and how important it isthat we share his grace with others!
Blessings for a great Thanksgiving and let's remember Jesus, the primary reason that we can always be thankful!
"Are you guys OK?"
"Where did you go?"
"I didn't get my daily email devotionals?"
"Our links to you didn't work. What's going on?"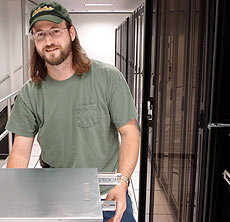 To answer your questions with one answer, I will simply say, "Things are crazy here!" I'm in Austin and we moved our servers — 11 of them and several other key parts of our Internet services — from one side of Austin to the other. Things went very well for the early part of the move, although some of you noticed we weren't available.
After about six hours working on things, we left our set up running just fine. Then, in the middle of the night when our email devotionals were going out, our servers overloaded the circuit they were on and all of Heartlight's servers went down along with several church web sites, several sites we support in other countries, and all of our email services.
When we awoke this morning, it was like juggling jello — the faster and harder we worked, the messier it got. We believe everything is up and going fine, now, but not without the incredible work of John Kirkland, our chief technical guy. (John's in the top picture looking calm, cool, and collected as he does his stuff. I'm in the bottom picture looking like a crazed unkempt maniac turned loose in the server farm.)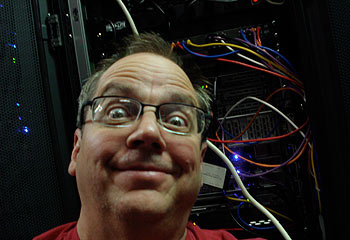 Anyway, we apologize for the inconvenience and the craziness and we are working to prevent this from happening again. We hope to get all the email for today out, although it will be many hours late.
Please keep us in your prayers. We have a few steps more to complete this move, including moving heartlight.org to a new, faster server. In the interim, things are crazy here … but that is kinda normal!
By His grace,
Phil
After going to a school night with Donna — something I actually enjoyed quite a bit more than I anticipated — I was blessed to have a long-time friend come into town. He drove over from Dallas where he had spent the week on business. My friend, Danny, used to live a few minutes up the road from when I lived in Pflugerville — say that three times in a row without spraying someone nearby. He now lives closer to our kids in Kentucky.
Danny and I met at Tuscany's, a local coffee place, where we visited for about three hours. We laughed and joked. I shared with him about my trip to Uganda with Compassion and showed him pictures and the video of my visit to Doreen. Then we talked about serious stuff.
One great blessing with some friends, and it is this way with Danny and me, you can just pick up and start where you are in your life right now and the years melt away — the love, the respect, the friendship is still there, the easy-ness in conversation comes back and it's as if you hadn't been apart. Tonight was a great grace.
As we visited, we both noticed that most of the folks in the place were younger than most of our kids. Some of them looked at us kinda strange, like, "What are you two old geezers doing in here at this time of night?" But we didn't worry about it, we had become friends in Austin where the famed "Keep Austin Weird" t-shirts reigned supreme. We felt right at home with the local version of the t-shirt, "Keep Abilene Boring."
While much of Abilene may have felt bored on a fairly innocuous Friday night, Danny and I both felt blessed. Friendship is a taste of heaven, a time and a place where all of our relationships are perfected and we are in the presence of the Lord. For a moment, I got to re-visit what that expectation means in real time. As much as I like the diet Tuscan Sunset, a lemonade, tea, and raspberry drink, the taste of heaven was better.
After saving for a couple of years, our small group from church all went on a cruise this past week. It was a great experience. Living in west Texas, New York City; Halifax, Nova Scotia; Saint John, New Brunswick; Boston, Mass; and Martha's Vineyard were all wonderful places to visit. The weather was great, the seas were mild, the color in some of the places was spectacular, and the company was great.
Two twists to the trip bear comment.
Our return home was the typically crazy disembark challenge that many folks face. It took us longer to leave the ship and get our backsides into the airplane seat than it did to fly home — part of this was because we caught an earlier connecting flight and part of this had to do with a long wait in the bus and a longer wait in the security line. We were told by a television interviewer that a lady was angry that she couldn't take her can of tomato juice through security and that she threw it into the scanner — bet she had a long trip home! But we made it safely and without missing flights, so no real complaints. The TV interviewer was looking for irate folks to blast the situation, but when interviewed, Steve in our group was kind and said basically, "I travel a lot and this kind of thing happens. It's not the security people's fault so there's no reason to be ugly to them. If we can all be safe and get on our flights then everything is okay." He did better than I probably would have done at the moment. I appreciated his response.
The other twist had to do with our first night. We had flown into New York and all pitched in and rented a limo for the night so we could see the city. It was a great idea and a wonderful tour. The weather was cool, but not cold and we got to see all the sights. It was truly a neat experience. On our way back, we started singing some church songs together — really old, zippy songs — and our driver started singing along with us. Turns out he is part of one of our sister churches in New York.
There is a special privilege living for Jesus and being a part of his family and celebrating his creation. This gift makes the world both a smaller place and also a more marvelous wonder. What grace it is to be one of the Father's children!
I was touched and taught by the responses to Monday's article and blog post. If you haven't checked it out, I encourage you to do so. Forgiving each other is crucial to our walk with God and a clear sign of our understanding of the grace we have received from God.
On a lighter note, for the second time in our little vacation break, Donna and Megan absolutely blew past me in the fish catching race on our vacation trip to Arkansas. It was fun. I barely had time to get a line in the water taking the fish off the hook for the two ladies. Megan caught 16 perch in less than 2 hours and would have caught more if I could have gotten them off the line faster. However, I think I'm most proud to say that they both baited their own hooks. It was a proud moment as I showed them how to get the grit and the grime off their hands and out from under their fingernails by scratching the soap with their fingernails and then lathering their fingertips in the palm of their hands. Wow, real women can bait their own hooks and still be ladies!
We're going out on a pontoon boat Wednesday morning &mash; it's been 106 the last 3 days so we don't do anything outside after about 11:00 a.m. — to see the lake and do a little more fishing. We have a special little meeting with some folks and then I drive to Russellville to speak on Wednesday night. Hope the Lord has a mid-week blessing for you all!
Ephesians 5:14 says, "Wake up, sleeper, rise from the dead, and Christ will shine on you." Well it's Saturday, I'm way behind on Heartlight stuff, worn out from traveling out of town to do a funeral for a dear friend, and I need to both "wake up" and also to have Christ "shine on" me!
You know the feeling, I'm sure — worn out doing good, but emotional draining, stuff. But, I wouldn't have missed it. There is nothing quite like a life well-lived. My friend Wayne Phemister, a life-long educator and good but mischevious guy, lived well and did good stuff. I will miss him and yet I am so thankful for the impact he has had and the encouragement he has given me. (I'll share more about one thing in particular in my Monday Heartlight article.)
As I shared in the family visitation and then as we did his funeral service together, I was struck with all the different people that were there from all different sorts of connections that I never knew were directly related to Wayne physically and spiritually. The world gets much smaller and the connections much more profound when one belongs to Christ. While we struggle in our churches, at times, to live up to our description as the family of God, funerals with all their joy, sorrow, and reunion, are great reminders of these incredible connections we have and how we really are family.
I don't know about you, but I look forward to the great reunion promised in 1 Thessalonians 4:13-18, when we're all changed to be immortal, we are all reunited with each other and Christ, and we go home to live with Jesus, forever. O what sweet reunion that will be.