Archive for the 'Heartlight' Category
In my Heartlight piece this week on Ruth, I focused on God's ways of caring for the widow, the fatherless, the foreigner, and the poor (see for example Deuteronomy 24:19-22 and Leviticus 19:9-10) and how they intersected with Ruth's faithfulness to her mother-in-law. This intersection not only brought us the sweet story of the book of Ruth in the Bible, but also brought us the grace of God in Jesus!
But the question that we have facing us as those who claim to be followers of Jesus is whether or not we have God's heart toward these same people. There's a Ruth out there (and a Ralph because God loves the guys in this position just as much a he loves the gals) and it's our job to find her! So what we are we doing to go beyond the political and social debates and moving into action to bless those God cares about…
the widow?
the fatherless?
the foreigner?
the poor?
If you want to do more than just debate, or feel sad in your heart, then let me point you to a couple of places to get involved and be a blessing. And be sure and see the Dry Bones video at the end of this post!
I have always felt "Good Friday" was an oxymoron, a mis-label, and spin put on the most horrible events in human history. On this day, creature put to death Creator, man rebelled violently against Messiah, and liars ruled supreme over the truth of the Lord. On this day, everything was help in balance … but only because of the grace of the Lord who held back legions of angels and an eternity of power to have the King of Glory pay the ransom price to liberate us from our bondage to death.
Despite it's naming history, "Good Friday" is really Hard Friday. Only God's might and mercy make it different. So for this weekend, I offer you three images and thoughts about the grace of our God and the gift of our Lord and Savior Jesus Christ.
The first image is all about hard Friday. Let it remind you that the King of Glory faced what endured because of His love for you and His desire to set you free from "the law of sin and death."
Click on the Image for a Full Size Free Downloadable Image.
The second image is a reminder why Sundays are so important. On the first day of the week, especially the Sunday after Hard Friday, Jesus was raised from the dead. Resurrection Sunday changes everything. We get to celebrate it in each weekly cycle on each successive Sunday and once a year on Easter. These cycles, one tied to the week and the other tied to Jewish Passover, remind us of the Lord's victory over death and His commitment to be with His people. He is with us, Immanuel, whether they are opening his word and remembering His story (Matthew 1:23), living in genuine community and worship (Matthew 18:20), sharing and serving others with compassion (Matthew 25:40), or crossing cultural boundaries to walk along side people and see Jesus come alive in them as disciples (Matthew 28:18-20). So look for the Lord among the living, not the dead!
Click on the Image for a Full Size Free Downloadable Image.
The challenge is to remind ourselves that what Jesus did, He still does. Hard Friday and Resurrection Sunday are not something long ago and far away, but they can be real for us, now.  We mustn't forget the sacrificial grace and the glorious triumph are still within our reach!

Click Here for Direct Link to Video at WorshipHouseMedia.com!
When we look at ourselves and the people we know who follow Jesus, we have to admit some things. Most of us don't look like world-changers. Most of us don't fit the caricature of a "soul winner" who changes the world for Jesus. Most of us are ordinary folks doing ordinary things in whom Jesus wants to do something extraordinary.
But rather than Jesus making us into some weird version of ourselves so we can be useful, the Lord wants to redeem us — to take how we are wired by God to be who we are and how we are wired into relationships — and use us to touch those in our circle of influence.
The following video, called Rethink Church, captures the concept pretty well. I hope you like it. Then what follows are some questions to think about that go with this blog post and with this week's Heartlight.org article, Catch and Release: Witnesses. Hope you are blessed by the thoughts in the article, this post, and the video. I'd love to hear from you and get your take on all of this!
You can find this video for viewing or purchase by clicking this link.
Read through Ephesians 2:1-10 and think about how the movement from "dead" to "grace" to "handiwork" is the story of the life of Peter … Mary Magdalene … of yourself.
How did that movement help the early followers of Jesus live as his witnesses to others?
How can this realization help you be a witness to Jesus?
Why do you think it was important for Jesus to choose "ordinary" people to be with him and then go out and be witneeses to others of the difference that he made in their lives? (Acts 4:13)
What are some of the things the devil places in your head and heart to try to keep you from believing you have anything to share with others about Jesus?
How could Peter have used the same excuse in his life?
How could Mary Magdalene used the same excuse in her life?
How does it make you feel to know that you are Jesus' plan to touch the world with his grace?
How do you think that early bunch of Jesus' followers felt when they realized that they were his only plan?
Okay, so two posts ago I shared a series of graphics called, "No Greater Love" and last post, I shared with you a fun take on love called "Collision Listening" so today, I want to share with you a Worship House Media video called "Love Is!"
This is a great compilation of what the Bible says about love and then applies it. It's simple, but clear, and true. Plus, the last image in the video takes you back to the "No Greater Love" graphic set two posts ago. So, more than getting revved up for Valentines Day, how about getting amped up to be God's subversive agent that loves … against the grain … no matter what … in all sorts of practical ways … and sacrificial ways … like Jesus!
Turning 55 and having braces put on my teeth all within the same month has got me thinking about things I don't normally think about. I'm not sure if that is good or not, but if it motivates me to lose weight and get back in shape, then I will take it. Facing the "vicissitudes of aging" — which is a fancy way of saying that you are trying to figure out how to do what you want to do when you are falling apart — an old familiar passage caught my attention as I was finishing up the messages on the Holy Spirit. That passage is 1 Corinthians 6:19-20:
Do you not know that your bodies are temples of the Holy Spirit, who is in you, whom you have received from God? You are not your own; you were bought at a price. Therefore honor God with your bodies.
To think that the Creator of the universe has chosen to live inside me and make me His place of residence stuns me. Compared to the ancient temples of the Greeks, my life span in this physical form will be quite short and not nearly so picturesque. Yet you and I are told that we are fearfully and wonderfully made (Psalm 139:14) and created in the image of God (Genesis 1:27). Like so many other biblical truths, I try to find ways to visually remind me of this truth. This is my humble offering on this front: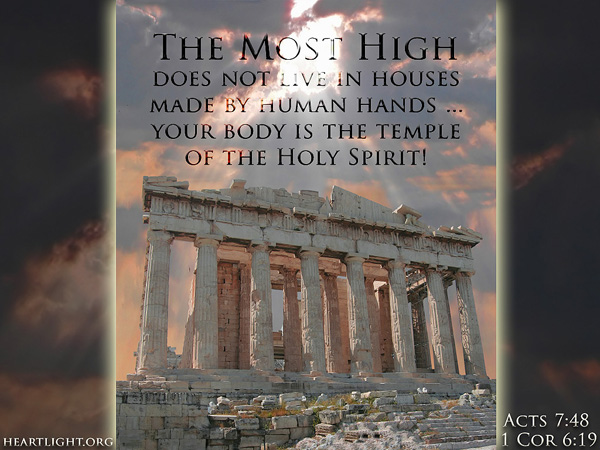 You can find the full size of this image (1024 x 768) and a whole set of PowerPoint backgrounds revolving around this theme on Heartlight.org and you can use them on personal websites or in churches or groups. (The image cannot be used on a commercial website or in print copy.) Check the links below for the other images.
I remember singing the song "Jesus Loves the Little Children of the World" as a child. Now as an adult, we don't sing it as often because we are not sure about the appropriateness of some of the language of the song. But there is one line about which there is no question — "they are precious in His sight." Regardless of race, ethnicity, skin color, or country of origin, each child, each person is precious to God.
This morning, this understanding means two very important things to me (I will actually have a third part that I will share Sunday in Heartlight.org and on my blog as we look at LIFE week.):
First, it matters to God what we do about the devastation in Haiti. Emotion and sorrow for the devastation that happens to others isn't compassion until we do something. So here are some ways to help with the devastation in Haiti:
Second, as believers in Jesus, we are precious to God because He lives in us through His Holy Spirit. My Heartlight.org article this week, "God's Dwelling Place," is about this and has several questions for discussion that I would love to get your input on.
Too often, I fear, we forget that our bodies are the dwelling place of God in the Holy Spirit. I want to encourage you to think about the following questions, discuss them with others, and even share your thoughts on them with me in the comments section:
What difference should it make realizing that God lives in us through the Holy Spirit?
How should this affect us in our sexual ethics? (1 Corinthians 6:9-20)
What other areas of our body image and bodily behavior should be changed by realizing that God lives in us?
If God lives in us through the Holy Spirit, what impact does this have on our understanding of worship as a way of life and not just a place centered religious activity? (John 4:19-24;Romans 12:1-2)
Why do you think it is so easy for us to segment our lives into secular and sacred, allowing us one set of "worship" behaviors and another set of work, play, and private behaviors?
Recognizing that we are "fearfully and wonderfully made" from conception (Psalm 139:13-16) in God's image (Genesis 1:26-27; James 3:9) and we are the dwelling place of God in the Spirit (1 Corinthians 6:19-20), how should we view our own value to God?
How should we view the value of others?
Since our bodies are the dwelling of God in the Holy Spirit, what do we — what do you and what do I — need to do to honor God with our bodies?
Is there a physical discipline that you need to commit to doing to honor God?
To whom will you be accountable to do this?
How will you remind yourself each day that what you do in and with your body is part of your way of honoring and welcoming God?
How can we do this in a way that is a joyful act of worship and not a daily drudgery?