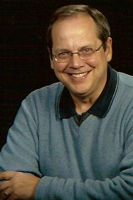 Phil writes, preaches, teaches, and does graphics. His passion is helping others encounter God in everyday worship and using visual communication. He loves the outdoors, especially fishing. He and Donna are partnered in the Heartlight ministry and live in Abilene, Texas where is preaching minister for the Southern Hills Church also president and editor for Heartlight.com, a leading Internet ministry. They have two great kids and a wonderful daughter-in-law. Oh yeah, and then there are those two quirky miniature dachshunds and two Kentucky grand-cats.
(For more info on Phil see his bio page. And yes, Phil knows this is a cheesy picture and will put a real life pic here someday.)
Welcome to my virtual Chumby!