Archive for August 4th, 2008
It was such an innocent request with a seemingly simple answer. "What else can I get you for you birthday?" The question was directed to my wife, Donna.
Now let me explain: birthdays are big deals around these parts, so a request like that can get one a might over committed … if you know what I mean. So as Donna thought things over for a few minutes, I waited impatiently, hoping to snag the last of my elusive birthday shopping before the rush.
"I really think I would like another child," she said almost nonchalantly. The words hung in the hair as we pondered them. Something about the phrasing sounded humorous at first, but then the seriousness of her request tugged at both of our hearts. I knew exactly what she was talking about after a few minutes of reflection.
Now for us to have a physical child the old fashioned way is a bit over the fantasy line. Let's just say we had several factors working against us. What Donna was talking about was sponsoring another child with Compassion International.
We were currently sponsoring two children at the time, Starlin and Doreen. They are precious to us. As Donna pointed out, "I have pretty much everything I need and I want to do something help a child who has nothing. It breaks my heart to see these little ones who have been on the waiting list so long."
So for Donna's birthday, we sat down and looked through children who had been on the waiting list for a sponsor more than six months. Our problem wasn't finding a child, but having to choose from so many. How do you decide? How can you turn any of them down?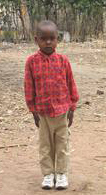 Each face tugged at our heart, but one little boy grabbed much more than our attention. He was trying to stand so straight and tall. He wore his best clothes — or maybe borrowed ones. The earnest look on his face spoke of his desire to impress someone on the other side of the camera lens. Yes, Raymond, your hope has become our gift. Thanks, little guy, for being so much more than a birthday gift. May God bless you on your journey, may Jesus be real to you in the days ahead, and please know that you are gift from God to us.
Since I was blessed to visit with one of our Compassion children in Africa this past February, we feel a special pull to this wonderful continent so full of precious children who face such deep need. So now we have our children on the other side of the world that we keep in our prayers, share messages, and help provide a future for just a little more than a dollar a day. What greater gift than this?
So please, take a look and I think you might just find a child looking for a sponsor that touches your heart and changes your world.