Archive for May, 2008
So frequently, we act as if the Holy Spirit no longer works across cultural differences or changing times to make the word of God powerful and effective. I came across an image I liked and with a little work, it sure seemed to get the message across that nothing, not even time and culture, can stop the Holy Spirit from using God's Word to reach people's hearts. When coupled with 2 Timothy 2:8-9, the graphic seems to communicate powerfully. Let me know what you think!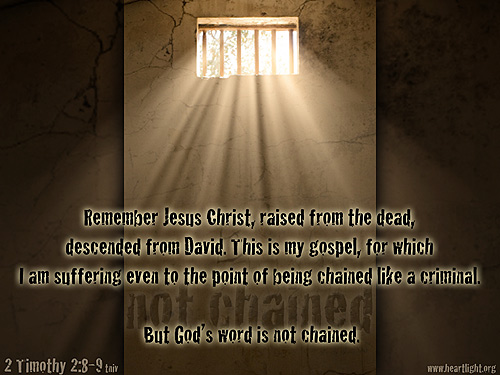 This image is available in four different background formats in 1024 x 768 for desktop or PowerPoint graphics:
There's a not so old Eagles song, Learn to be Still (written by Henley & Lynch — see lyrics), that "keeps ringing in my head" this morning. Yesterday was one of those days — breakfast meeting at 7:00 and got home after 10:30 evening meeting. The emotionally exhausting day, full of concern for God's precious and hurting people, has left me depleted this morning.
Rather than concentrating and doing the hard work of study, prayer, and thinking, I'm having to fight to keep myself on track today. I want to run and do a frenzy of little, time consuming jobs that will give me a feeling of accomplishment, but leave the important work of submitting and listening for God's message, a message I'm suppose to share with His people.
Having ideas and a focus in Scripture isn't the problem for either message. No, the problem is that I have too many shallow ideas and too many possibilities of messages. Which of these is really from God for my people, this week? Which ones are only titillating distractions that further inoculate God's people from hearing His clear call to the Cross and to follow Christ?
I guess I need to listen this time, the voice that "keeps ringing in my head" and learn to be still.
What do you do and where do you go to quiet your spirit and learn to be still and hear the voice of our Abba Father?
In my Heartlight.org article today, I share a powerful reunion story about a birth mom, her parents, her child, the adoptive family, and other key people. All these people were brought back together two decades after the adoption through college graduation and a church service.
Do you have a personal story adoption's blessings would like to share?
Do you have any personal messages you would like to share with a birth mom considering adoption as a good thing for her baby?
I'd love for you share in the comments section below.
(Please use discretion and care in telling these stories and do not use last names out of respect for the privacy of everyone involved.)
More than twenty years ago, a young lady and her mother ran a red light and slammed into a friend of mine as we were going through an intersection. I was in the back seat of his Suburban. She was going 65 mph, and we were the second vehicle through the intersection. I knew almost immediately that I was hurt — not severely hurt, but my shoulder and my arm were numb. However, the other car was totally demolished and so we rushed to make sure the folks in the other car were OK. After a trip to the hospital, everyone turned out to be okay — very shaken up, bumps and bruises, but not disastrous injuries.
I was, however, left with a stiff neck from time-to-time. Over the years, I've had therapy, decompression and several other things done to help alleviate the problem. Now I just make sure I stretch several times a day and everything is fine. No problems … until a few days ago.These last few days have been one of the "from time-to-time" periods in my life. I've had that sorry ol' stiff neck. It's getting better every day, but I can tell you that it makes me grumpy, impatient, and a bit of a "whiny baby" — okay, my family might drop the line "bit of a" for the words "a big ol' whiny baby." Most of all, I'm not very open to suggestions. I try to be pliable and cooperative, but I know I'm not. As I said, what I am is grumpy, impatient, and a bit of a "whiny baby."
This morning, I woke up thinking about all that God said about stiff-necked people — click here for a list. The image refers to an ox or donkey that would stiffen its neck and refuse to cooperate while yoked to do work or haul a cart. As we say around these parts, "they'd bow their neck up" and refuse to do what you want. This image of a "stiff-necked" became a living metaphor for God's people and their unwillingness to respond to God. He would try to do good for them. He would call them to obedience. He would try to prevent destruction from happening to them. Instead, they would become stiff-necked and go their own way … and disaster would fall on them.
The interesting thing as I read these passages and their context, however, is that my self-admitted description of having a stiff neck was as applicable to the Israelites as the ox and donkey explanation. God's people were grumpy, impatient, and a bunch of "whiny babies."
Ouch! Convicting! I don't want to be like those hard-headed and rebellious people.
So the question that I have had to face this morning does not have to do with my physical condition of being stiff-necked — that will pass in another day or two — but it has more to do with my spiritual condition of being stiff-necked.
About what parts of my spiritual life am I grumpy, impatient, and a "whiny baby"?
Where am I spiritually stiff-necked?
Why do I bow my neck against the will of the Lord?
But maybe the most important question for all of us, "How am I going to be more pliable and allow God change me and mold me to His will?"
Summer Road Trip with Jesus through the Gospel of Mark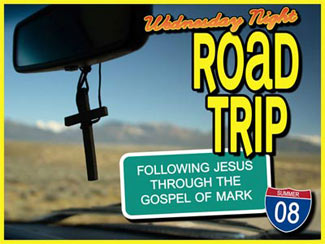 We're taking a summer road trip through the Gospel of Mark this summer. It's full of funny videos and challenging insights from John Mark, a man who grew up in the center of the action in Jerusalem, went with Paul and Barnabas on the first missionary journey, had his share of embarrassments and failures, but finally ended up as one of the most influential people in the history of Jesus' followers!
Great defensive lineman great for Minnesota Vikings, Jim Marshall, is known more for his running the wrong way than his great play over the years as part of the great Viking defensive line sometimes called the Purple People Eaters! The parody video exists because the actual one is licensed by the NFL.
Our travel guide for our summer road trip had a worse reputation for running the wrong way than Jim Marshall did … a reputation that he had to overcome:
Mark 14:50-51 – ran away naked in the night
Acts 13:13 – he deserted Paul and Barnabas in Pamphylia
Acts 15:36-41 – caused such a huge disagreement that Paul & Barnabas had a very contentious disagreement and split up their missionary team
At this point, Mark is a young of man of great potential, which all seems lost!
• Acts 12:25-13:5 – He was included in the group that came from Jerusalem to Antioch with Barnabas and Paul. He was also chosen to accompany them on what we call the first missionary journey.
• His mother, Mary, had furnished the nice, large house with servants for the early church to meet in and which became the hub of the apostle's ministry in Jerusalem (Acts 12:12) – some suggest this also could have been the place where Jesus had the Last Supper (Mark 14:12-26).
But, Barnabas was a man of encouragement (Acts 4:32-37) and a mentor of ministers and missionaries. So when the big blow up happened with Paul, Barnabas took Mark, his cousin (Colossians 4:10), with him on a missionary journey to Cyprus, while Paul and Silas headed off to Syria (Acts 15:39).
Just as Barnabas had saved Paul from the scrap heap of rejection (Acts 9:26-31; Acts 11:19-26), he also saved John Mark and made him a useful servant to the church, church leaders, and to the Lord. After Barnabas work with Mark, Mark was associated with the apostle Peter – who calls Mark his "son" in the faith. Mark was with Peter in Rome when he wrote the book of 1 Peter (5:13). He also appears about this time coming from Rome to Colossae on a mission from Paul, and Paul's language suggests that they knew of Mark's failures. Paul assures them that Mark has overcome them and they are to welcome him (Colossians 4:10; Philemon 24).
So it is not surprising that several years later, at the end of Paul's life when he is headed for execution (2 Timothy 4:6-8), Paul begs Timothy to bring Mark with him before winter sets in and travel is impossible. Why was this so urgent? Two reasons: 1) Mark was useful to Paul, and 2) Paul wants his coat, scrolls, and parchments – a coat to keep him warm and reading/writing materials to possibly discuss the Jesus story with Mark (2 Timothy 4:11-13).
But we are taking a summer road trip with Mark, so we need to ask a very basic cornbread kind of question: What makes Mark a good tour guide for us on our summer road trip through the life of Jesus?
Well, he traveled widely all over the Roman empire sharing the story of Jesus.
In addition, he had access to a lot of first hand knowledge of Jesus' life, especially in and around Jerusalem. He also knew well three great leaders and missionaries in the early church, Barnabas, Paul, and Peter. So while we know very little about Mark's formal education, he was sure in the very center of leadership of the early church and missionary effort!
But don't you think there's something even more powerful about his failures and then his reclamation that makes him a great tour guide for the life of Jesus? Doesn't that make his summary of Jesus' message all the more powerful?
After John was arrested, Jesus went to Galilee and told the good news that comes from God. He said, "The time has come! God's kingdom will soon be here. Turn back to God and believe the good news!" (Mark 1:14-15 NLT)
Finally, and a point I have never heard emphasized, but one I deeply appreciate, Mark knew the failures of great leaders in Jesus' greatest leaders, and he didn't quit: he didn't give up on himself, he didn't become bitter toward those leaders, and he didn't bad mouth the church or her leaders. As a flawed human, he knew the grace all of us need, to turn life around and start fresh! None of us fully lives up to the call of the cross, but we're all called to follow Jesus on that road, and in the process, who knows what we might see? (Mark 8:27-9:1)
Road trips are fun, but often filled with surprises – hardships, failures, and unexpected joys. Our tour guide has been met these on the road before, and he has shown that Jesus could get him through. So shouldn't we anticipate that Mark will help us do the same?
During lunch today, I was talking with my daughter, Megan. She has a very interesting way of putting things in perspective sometimes. We were talking about how to get churches to wake up and not sleep walk through the motions of Christian faith. She said something like this: "Dad, if Jesus can turn water to wine, then he can surely make water boil!"
That pretty much sums it up, I think, with one exception. I believe we have to want the water to boil … pray for the water to boil … and expect the water to boil. Remember what Jesus said to the church in Laodicea (Revelation 3:14-16)?
Write this letter to the angel of the church in Laodicea. This is the message from the one who is the Amen — the faithful and true witness, the ruler of God's creation: "I know all the things you do, that you are neither hot nor cold. I wish you were one or the other! But since you are like lukewarm water, I will spit you out of my mouth!"
I believe Jesus longs to make the water boil, but often is waiting for us to ask for Him to light the fire — I mean really ask by making ourselves available to do what he asks. There is a high cost to asking. We can't keep rewarding mediocrity and affirming cautious indifference. Our cardinal values can't be keeping house and maintaining the status quo. We can't allow the person who always wants to throw a cold wet towel into the boiling pot of Kingdom passion to keep doing it without challenge. "Follow me!" can't mean less risk for us today than it did for the original disciples who answered that call.
Maybe the biggest challenge of all, is for us — for me — to read the parable of the talents again and again till we truly get it. It's not just about using our talents, but it's about how we picture God. He wants us to take risks and not fear. He wants us to realize that he despises us playing it safe. He wants us to take what he has given us and use it and (Click to read Matthew 25:14-30 in a popup window) put it into play. Laying low and being safe out of fear — burying it so we won't lose it — provokes the same reaction as tepid water!
What do you believe is the reason we are more passionate about the Lord getting us "boiling"?