Archive for April, 2008
After yesterday's post and a few bits of feedback and some healthy skepticism about the good of donating to certain relief efforts, I would like share two things with you.
First, my own experience with the child we sponsor in Uganda with Compassion.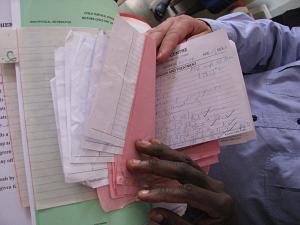 What you see are the medical treatment records of our sponsored child, Doreen. These records were more than an inch thick. They were carefully taken and tracked.
Doreen was brought into the Compassion' Child Survival Program at 1 year old because she was felt to be at high risk. Without medical treatment, immunizations, regular doctor's visits, mosquito nets for her bed, treatment for her mom, training for her mom and grandmom, Doreen and I would probably have never met because she would have not survived the two and a half years before I met her.
The second picture, of Doreen with me, reveals to you how great a tragedy that would have been for both Doreen and her family, as well as my family and me. Where God will take Doreen, how she will respond to the love of God and the opportunities she has, are really outside my control. But, I can help give her a chance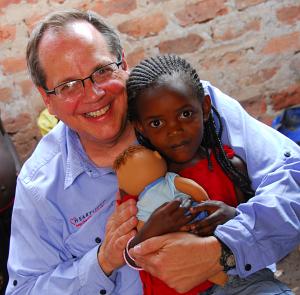 at life, a group of people who will help her meet Jesus, my daily prayers, notes and cards, and the assurance of the basics of life — in other words, I can help release her to have an opportunity at life — for about 110 pennies a day!
Second, I'd like to point you to my friend, Shaun's blog to learn more about what it means to "release children from poverty in Jesus' name." Check out Shaun's clear and vivid explanation.
You see, we're not donating to a cause or an organization, we're helping children … we know … we've held … and we pray we'll know forever.
Click the Sponsor a Child with Compassion button at the top right and see for yourself!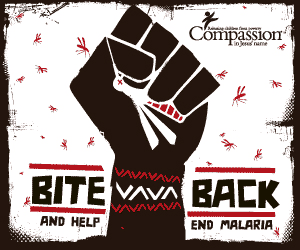 Are you immune yet? I'm not talking about immunity to a biological disease, I'm talking about an immunity to a very needed God-inspired human virtue, genuine compassion.
Movies, advertisers, preachers, fund raisers, sportscasters, politicians, and a host of others, frequently play with our emotions and generate feelings of empathy, sympathy, and pity for people, events, and situations. Over time, we begin to associate compassion with feelings, emotions, and intentions. Before we know it, just having the emotion makes us feel like we have compassion.
As followers of Jesus, however, we need to hear everything in our Bible heritage remind us of one simple truth: compassion isn't genuine compassion until intention becomes action.
Don't mis-hear me on this: our intentions and motivations and emotions ARE important. But, these are not compassion, at least not from God's point of view.
God demonstrates compassion by becoming human flesh and living among us as Jesus — it was not "tender compassion" until God's concern for us was demonstrated by His action of becoming one of us (Luke 1:78 NLT). Notice how frequently God's love, concern, and compassion are identified with His actions on our behalf (John 3:16-17; Romans 5:6-11; 1 John 4:8-10 NLT) and how God's compassion for us should be completed by our compassionate action for others (1 John 4:8-10 NLT). Jesus even teaches this truth about compassion in two of His most famous parables.
Remember in the story of the "Good Samaritan" how the Priest and the Levite walked on past the man who had been beaten, robbed, and left for dead. But the one who had compassion for this battered man was the Samaritan, who got down off his "high horse" (Okay, it was really a donkey, but "high donkey" just doesn't seem to have the emotional impact!) and he helped the man. He treated his wounds, bandaged the stranger, put the wounded man on his donkey, put him up in an inn, and paid the man's way until he was healed. (See Luke 10:30-37 NLT for details, notice especially vs. 33.)
In the famous story of the rebellious son, Jesus tells about the father who had compassion for his wayward child. When the father saw him at a distance, he had compassion on him and ran to meet him, hug him, and welcome this son home. (Luke 15:11-32 NLT, especially vs. 20.)
Throughout Jesus' ministry, the Lord's compassion moved Him to actions like, touching and healing lepers, mending the broken and the blind, feeding the hungry masses, teaching the confused and shepherdless crowds, raising from the dead a widow's only son, and defeating the demonic powers controlling the hopeless. (Follow this link for details in the ministry of Jesus about His compassion — you may want to download the Greek and Hebrew fonts to use the language resources.)In cornbread English, feeling concern and empathy for folks in need is good. We don't want our hearts to become immune or callused to human suffering. However, we must remember that good intentions don't become compassion until they move us to action. In the picture above, four key elements of compassion come together with mosquito bed nets for the baby and her mom, a worker from the church to do regular check ups and also Bible mentoring, sponsors who help provide regular support, and medical care with good records — all part of Compassion International's ministry to kids.
And here is a great way to demonstrate our compassion. April 25 is World Malaria Day. The leading killer of children in many tropical countries is malaria. Having been to Uganda, a number of us know first hand what a huge difference in the life of a child a mosquito net for beds truly can be. I'm hoping your concern will move you to two actions regarding this important issue:First, please make a donation to Compassion International's Malaria Prevention Fund to provide bed nets for children in malaria infested countries.Second, find out more about the effort to "Bite Back" against this awful disease that ravages the lives of thousands of children every day.
So what makes it hard for you to move from compassionate feelings to genuine compassion in action?
Seen too many ads and heart too many pleas to really be moved?
Don't trust the websites for donating or helping?
Want to help, but not sure I can?
None of the above, I'm ready to help right now!
Today we're joining Randy Elrod for WaterCooler Wednesday and reminding ourselves the ultimate creative active is to give someone at chance at life.
In my Heartlight.org article today, rather than give my opinion on the subject of paying taxes and handling money, I share some insights from Scripture. However, there are still some questions I'd love some input from others on:
Does doing taxes make you nervous or give you heartburn?
Are there things the government spends money on that make uncomfortable supporting through taxes?
Would you support through financial gifts a "widows" and "paupers" and "missionaries" fund in your church if it was fully tax deductible — i.e., it was removed from your gross income before taxes?
What's your take on all this tax stuff or are you afraid to even post one?
I have a message from God in my heart
concerning the sinfulness of the wicked:
There is no fear of God
before their eyes.
In their own eyes they flatter themselves
too much to detect or hate their sin.
The words of their mouths are wicked and deceitful;
they have ceased to be wise and to do good.
Even on their beds they plot evil;
they commit themselves to a sinful course
and do not reject what is wrong.
Your love, LORD, reaches to the heavens,
your faithfulness to the skies.
Your righteousness is like the highest mountains,
your justice like the great deep.
You, LORD, preserve both people and animals.
How priceless is your unfailing love, O God!
People take refuge in the shadow of your wings.
They feast on the abundance of your house;
you give them drink from your river of delights.
For with you is the fountain of life;
in your light we see light.
Continue your love to those who know you,
your righteousness to the upright in heart.
May the foot of the proud not come against me,
nor the hand of the wicked drive me away.
See how the evildoers lie fallen —
thrown down, not able to rise!
\o/ — Comments Psalm 35: Continue your love to those who know you! — \o/
We could call this psalm the collision of two ways.
One way, the first way emphasized, is the way of the wicked. They continually do evil and plot to do more. Their way is wicked, vile, and arrogant. It is everything that God is not and love everything that God detests. The psalmist recognizes the truth about those who are wicked!
The other way, the way emphasized second, is the way of the LORD. Notice how God's way is described: love, faithfulness, righteousness, and justice. Those who are the LORD's people are blessed by these qualities of God and find delight in His presence — the light of God.
So what am I to make of this? How does this psalm intersect my life? I join the psalmist plea for God to be God. I also pledge to align my heart and my life with His character. Rather than being deceived by the temporary "success" of those who are evil, I remember the long faithfulness of God. Rather than being "co-opted" by the evil and deceptive shortcut ways of those who are false, I choose to trust that God will act in behalf of His people. I trust to see the defeat of the wicked even before the first steps of their defeat are visible, for I know that the LORD, and those who honor Him, will ultimately triumph.
Several days ago, I sat with a friend who was sick from a powerful chemo cocktail. This was the second round of this person's battle with cancer. Though a person of strong faith, that faith was a battle every day because of the the physical illness, weakness, and emotional roller coaster caused by the combo of powerful drugs.
Several days after our visit and frank, but tender conversation, I found the image below. I was drawn to it for many reasons. One reasons was because we battled for years to find images of faith that pictured people of color — I have often used this as an example of "institutional racism" that us white folks often don't notice. This image, however, is a powerful statement of faith, and it caught my eye immediately. A second reason I love the image, is the lighting — if you have ever been in a battle of life and death and experienced the grace of God's light invading your darkness, you know what I mean. Finally, my meanderings around in the Psalms led me to this powerful verse (Psalm 49:15), which seemed to articulate for me, the prayer and faith hidden in the image:
But God will redeem my life from the grave; he will surely take me to himself.
Here is a small version of the image. It doesn't really do it justice, so I've included links to the full sized images that are prepared for Heartlight.org and the free Scripture graphics there.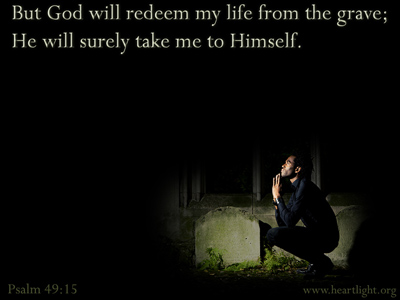 You can find three versions of this image, Text (pictured above), Title (my personal favorite of the three), and Plain (only the image on a black background, but still very powerful).
You might, at first, think of this as a verse of resignation — giving up and saying, "OK, God, I know I'm going to die, but I trust you will bring me to yourself." And granted, it can mean this and should offer us comfort. God will not abandon us to the grave. He will bring us to himself. Faith in the face of such things is a powerful and comforting blessing.
But I also think of Hezekiah, who found out he was going to die and then prayed with Isaiah, and God redeemed his life and granted him fifteen more years of life (2 Kings 20:1-6). I am also reminded of my friend, Saundra, whose liver tumors vanished "without explanation" between the time other malignant material was removed from her and her trip to MD Anderson in Houston to one of the few surgeons who could do the surgery she needed at the time. She is still alive today nearly two decades later.
Yes, we are all going to eventually die. But my whole being believes that God does redeem our lives from the power of the grave. He does this sometimes by rescuing us from immediate death and brings us to himself, bringing healing and granting us more years on this earth. He also does this sometimes by rescuing us through death and bringing us to himself to await the glorious day of Jesus' return. Paul says it well, and I will end today on this note:
Yes, and I will continue to rejoice, for I know that through your prayers and the help given by the Spirit of Jesus Christ, what has happened to me will turn out for my deliverance. I eagerly expect and hope that I will in no way be ashamed, but will have sufficient courage so that now as always Christ will be exalted in my body, whether by life or by death. For to me, to live is Christi and to die is gain (Philippians 1:18b-21 tniv).
Today, we're also joining Randy Elrod with Watercooler Wednesday — How to Recycle a Church?
I remember the very first time I heard the song, There's a Stirring, shortly before it's official release on radio and CD. I was literally moved to tears. The following lines struck me powerfully:
I will rise up,
I will rise up,
then bow down,
and lay my crown,
at His wounded feet!
When there is no apparent reason to "have to" offer praise, we voluntarily, out a deep sense of adoration and appreciation, fall at the feet of the Lord in worship simply because of who He is and our own recognition of our deep need of His gracious presence and power.
Recently, as I read through the Gospels (Matthew, Mark, Luke, & John in the Bible), I was struck by a powerful and repeated image that I seemed to have missed or forgotten. People in need fell to their knees or fell at the feet of Jesus. Some of these instances used a technical term for worship which means "to bow low before" or "to kiss the feet of" someone in worship. Some, however, just speak of the physical posture people took in desperation or adoration before Jesus on their knees bowed low before their Lord.
Even more recently, I read through Mark 5. I again read of people falling at the feet of Jesus in reverence, fear, respect, and awe. But as I read this chapter in both English and Greek (see the www.searchgodsword.org Bible resource) I also kept noticing the repeated word referring to the way people spoke to Jesus. The NASB translates this word "implore" (Mark 5:7, 10, 12, 17, 23). Again, we are show the absolute dependence of those before Jesus; they knew they needed his grace, power, and might. In that moment, they fell at the feet of Jesus!
In His earthly ministry, the Lord was the one in control and all-powerful. He spoke and everyone and everything obeyed Him. Demons fell at His feet, powerless even in great numbers to do anything but obey. Death and illness were no match for His power. Even the fearful heart was emboldened to come forward and bow before Him and receive His deliverance, mercy, and grace.
As several passages in the New Testament indicate, every knee will ultimately one day bow before Jesus and recognize Him as Lord (Philippians 2:5-11; Romans 14:11). Our challenge — my challenge — is to do so gladly, appreciatively, and humbly now. Some have mocked me even saying this:
"Christians are weak and need a crutch."
"I'm sad for you feeling like you have to cower before an imaginary diety."
But I'm sure many folks mocked the people who fell at Jesus' feet during His earthly ministry. It is in taking that loving risk of adoration that we are suddenly set free to receive the Lord's grace and experience His presence in ways we never have before. This is where we get our first glimpse of the Kingdom of God in our midst in Jesus.
So bow — not just kneel, but fall on your face — before Jesus in your bedroom, motel room, church building, retreat center, TV room — and implore Jesus out of the depths of your deepest need wait on the Lord and experience His grace.
He's been waiting for you to do so for a long time. For sure, I believe with all my heart, He is longing to lift you up. And when you finally do fall at His feet, I bet you wonder why it has taken you so long … why you have denied yourself such grace.
Hear the Lord say, "Go home to your people and report to them what great things the Lord has done for you, and how He had mercy on you." And know that your Savior has sent you away with the beautiful words of comfort, "Your faith has made you well; go in peace …"