"What in the world is a BooMama?" I asked my wife, Donna, as tears of laughter streamed down her cheeks.
"Oh, she's someone who blogs and is hilarious. All the girls I know read her. Denise turned me on to her because she's a southern girl, too."
Well, BooMama tries to explain what a BooMama is, but to be honest, the person, otherwise named Sophie, far outstripped any word-limited description. She is Southern Belle meets Southern Fried Chicken, with a sarcastic whit and a deep love for children, her family, and the Lord.
I was blessed to go on a blogging trip to Uganda with Compassion International — find out more by clicking the Uganda with Compassion tab above. Among the 15 or 16 very talented folks who came along was BooMama — I often had to pinch myself to see if I was really blessed to be along with this group: I think I was included as the token old geezer, blogging talent certainly didn't get me in, that's for sure! Not only did BooMama add spice, charm, humor, and an outstandingly delicious Southern drawwwwl, she was a mama blogger personified. She was great with kids and translated that love for children to her readers, many of whom sponsored a child.
Last night, after playing a week of catch up on sleep, work, writing, sermons, visits … I was sitting in the TV room watching my daughter laugh as she stared at her laptop. "You must have had quite a time with someone as sarcastically hilarious as BooMama!" Megan said. Yes, I'm in a house with two BooMama fans, but Donna has gone to BooMama land to speak with The Coffee Group on a ladies retreat at the Homewood Church in Birmingham, Alabama.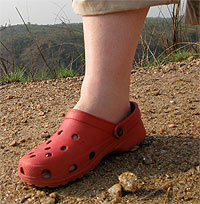 We then proceeded to laugh together as we read two of Sophie's recent posts, Our Great Big Wilderness Adventure and My Afternoon Outside in Nature. I especially appreciated the latter, since I had gotten her to pause to show me her Southern Belle rock climbing shoes, pictured to the left — yes, I know they are Crocs, what did you expect?
While you can't know the meaning of all of the pictures below, this is a little video summary of BooMama from my vantage point. What tells the whole story for me, however, is not something funny or crazy or Southern. When most of the group got to meet their sponsored child, I had already had an in home visit with our sponsored little girl. Having a big BooMama heart, Sophie made sure that her the little boy sponsored by her brother's family was included in the lunch. So she made time for "Little D" and then shared him with me while she held, cradled, cuddled, and loved on her family's little girl. Many of the pictures of Sophie and this little girl were actually taken by "Little D" who loved using my camera. Sophie's little girl didn't say a word until "goodbye," but snuggled up and shared the love only a BooMama can give.





6 Responses to 'A BooMama?'
Leave a Reply