Archive for February 15th, 2008
Driving back to the hotel after a long day, I was "wierded out" at the sight of two pearly white manikins standing out front of a clothing store wearing red clothing. The display would have looked strange in any city, but here in Africa, bright white manikins just seemed over edge of the "bizarre-ness" meter.
But that wasn't the most out of place sight I saw on the trip back. The other was a guy yelling at the top of his lungs standing on a street corner. He slammed his fist on the Bible as he bellowed. While I couldn't understand all the words he was screaming, he did make it clear that he was warning people about hell. It was also obvious that his message was missing it's mark. As someone on our bus observed, this was the only abandoned street corner that we had seen the whole time we had been in Kampala. People were avoiding this guy like the plague — they moved to the other side of the street long before they reached him, and if they couldn't avoid him, they sped up their pace and made sure not to look his way as they raced past him. Even though I believe he was on that corner with good intentions, he clearly had a serious methodology problem to go along with his faulty understanding of the Good News of Jesus.
In a country trying to escape from poverty and from crushing public health issues, yelling a message devoid of grace and randomly warning people about hell wasn't winning any converts and sure wasn't helping anyone I saw escape from their own private hell. From my vantage point, his approach sure didn't appear to be following Jesus' model of ministry, either. Jesus preached and taught in appropriate places, and he also healed and liberated folks from the bondage when and where needed. But unlike our street corner-preacher, Jesus attracted huge crowds and changed innumerable lives (Matthew 9:35-38).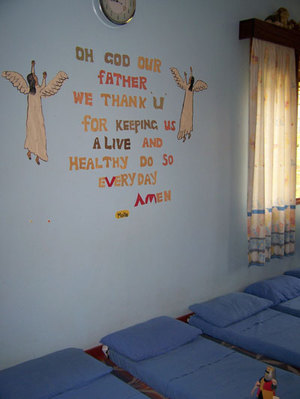 While in Kampala, we got to share in a partner effort of Compassion International. Compassion uses this service as they seek to pattern their work with children after Jesus' approach to ministry. I can assure you that their results are far different, and much more encouraging than the guy preaching on the street corner in Kampala. And the projects with whom they partner also call people to genuine discipleship, but in the context of wholistic ministry to the complete person — heart, soul, mind, and strength (cf. Mark 12:30).
Compassion has partnered with The Mildmay Centre in Kampala, Uganda. This is the leading HIV research and treatment center in Africa. We toured the both sides of the center this morning, the outpatient treatment center and the childcare and inpatient hospital for children that are HIV positive. We saw hundreds of people receiving care, children and adults.Uganda was the first African country to acknowledge their need for help with the HIV epidemic and has taken dramatic steps to address this issue at each of the crucial levels — moral, spiritual, emotional, and physical (heart, soul, mind, and strength). Yet so many are trapped in poverty and all it brings with it — poor hygiene, lack of information, despair, and lack of transportation. The Mildmay Centre is a key component as Compassion plugs into their services for children and their families.
The training, treatment, and support that Compassion offers those diagnosed HIV positive, along their families, makes a difference in the lives of real people and real children. This is true in the life of our Compassion child. Through the church project where she is involved, our Compassion child's mom has been to training to improve her health, hygiene, and habits. They have worked to prevent the condition from being passed on to our Compassion child. So you see, these programs, and these results are not theoretical chunks of data from a place far away. They are personal and real to me and to a child I've held and hugged! This holistic approach to Jesus' message of the Kingdom is our Compassion child's only hope in this world.So many approaches to problems today make no more difference than the strange manikins on display or the well-intentioned street-corner screamer warning about hell. Political battles in government, and sadly in our churches, sidetrack our focus on Jesus-style ministry. However, some approaches are making a difference in the lives of many people … some of these are people we know and love … and part of the reason they are effective is because they are patterned on Jesus' ministry to the whole person!
Jesus went through all the towns and villages, teaching in their synagogues, proclaiming the good news of the kingdom and healing every disease and sickness. When he saw the crowds, he had compassion on them, because they were harassed and helpless, like sheep without a shepherd. Then he said to his disciples, "The harvest is plentiful but the workers are few. Ask the Lord of the harvest, therefore, to send out workers into his harvest field." (Matthew 9:35-38 TNIV).
Read that last sentence again, please. Then realize, you might just be the answer to my prayer for more workers for the His harvest field and a child's hope for life now and for eternity! Sponsor a child and change the future. (And in tomorrow's Heartlight.org article, I'll share with you just how big a difference some of these things have made in the lives of emerging leaders!)