Archive for February 13th, 2008
Today was a full day in Kampala, Uganda. We visited with the Compassion staff at their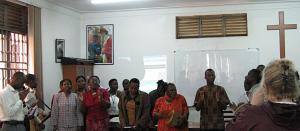 headquarters here, and then drove outside of town on a very bumpy road to go to one of their children centers. In many ways, this was a brief taste of heaven while we dealt with the very real and fallen realities of our fractured world. As I write in my Heartlight.org article today, in many ways it was a little taste of heaven.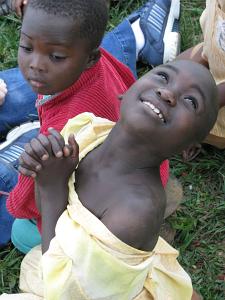 The mothers and children were waiting for us when we arrived. They children were dressed in their nice clothes and greeted us warmly. Several of the youngest children rushed to greet us and wanted to be hugged and held by the "muzungo" visitors. (Muzungo is a term for European or white people.)
The openness and warmth of these children was captivating and lasted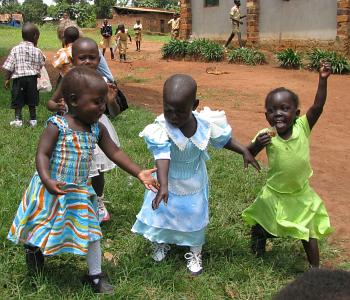 every second we were with them. It wasn't that they craved attention or demanded something of us. In fact, they were extraordinarily well behaved! They were just full of love for us, and especially the people we were with who had come to see them regularly to help with their care and health. This is quite a dramatic change in their behavior with the good new health and social skills they have learned with the CSP (Child Survival Program). Several years ago, this same age group of children had been malnourished and very shy. The intervention of the CSP personnel and their close work with the mothers and children had a huge impact on everything they were now doing.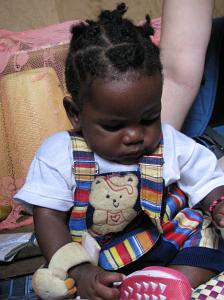 The CSP was the program that was so vital in helping Doreen, our sponsored child I talked about in Heartlight yesterday. They work with moms before their child is born and offer pre-natal, baby, and early childhood training in nutrition, spiritual values, immunization, and other services. We made home visits — the most powerful part of this trip each day for all of us, even though playing and spending time with the kids is more fun. Our group visited with a 23 year old mother of two. She is married and is HIV positive. We learned the infection rate is 6.7 per year. That's new cases each year, so the number in the general population infected is very high. The mom asked us to pray for her healing. She also wanted us to pray that her children could be healthy and that her relationship with her husband be strong. While her home was very small, it was clean and neat as it could be. Her five month old daughter was absolutely precious and it was clear the CSP help had brought great reward to this little child. We later saw the group doing projects for which they could earn money.
After a time of music and celebration, we finished with a time of playing with the kids and enjoying each others company. It was very difficult to leave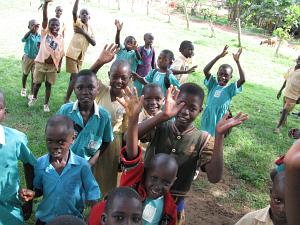 because of the love that flowed among us all!
After the overwhelming emotions of yesterday, today was good, fun, sobering, and hopeful. We can make a huge difference in the lives of children … one child at a time … all it takes is a little over a dollar a day a heart full of Compassion.