What we sometimes call worship, but it's often not.
What we long to share with those we love, but often don't.
What so many of us want in our daily lives with God, but often won't.
What the name of the slum is that I sat in this morning claims to be, but isn't.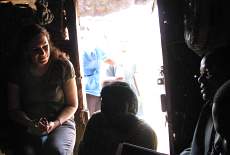 I sat in a matchbox-sized house — 7 foot by 9 foot, one wall a little over 5 foot tall and the other about 9 foot tall. Sweat from my hair ran under my collar and down my back. The light filtered into this tiniest of homes through the crowded doorway. Eight souls share this cramped box called a house on Celebration Hill, in Kampala, Uganda.
Over the shoulder of a child standing in the doorway, I could see the beautiful mosque on top of the hill. Other than the call for afternoon prayers that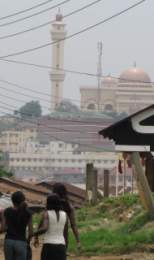 filtered down the hill from the mosque and spilled into this neighborhood, the mosque's presence offered little visble impact, and even less solace, in the lives of these people caught in death grip of poverty. This is supposedly a largely Muslim neighborhood, but the lack or morals and the darkness of the "night" in this place are really testimonies to the lack of faith, no matter the claimed religion.
We were gathered to learn and to love from this family. The mother went to her knees to thank us for our presence. She openly shared her deepest concerns: a better relationship with her husband and better health for herself and her children. Underneath lay the other request: a way to escape the poverty and a way to replace her secret income from her home brew that only brought a more recognizable blight to her neighborhood.
The father of this family, her husband, worked part-time with the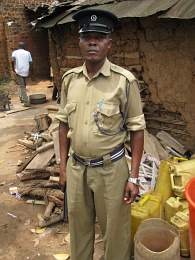 anti-terrorism police. He showed up near the end of our visit and proudly put on his uniform — hat, shirt, baton, and rain hood. She dyes some kind of clothing or rope, but also runs a business that provides the "celebrators" with their neighborhood hooch, a home brew, and her only income. But drunkenness and sexual attacks are result of this awful brew during Friday reveling on Celebration Hill. Like the neighborhood around her, this mom-wife-brewmaster is trapped in the squalor and deep poverty of poor choices, poorer opportunities, and the poorest kinds of hope.
Little by little, this family is being led out of the cycle of poverty and self-defeating choices, by the one reason to celebrate on Celebration Hill: a church partnered with Compassion International to give children in this neighborhood a figthing chance. Unlike neighborhood flight in the U.S. as a neighborhood "changes demographics" (Code for "changes racial composition"!), the leaders of this church come from outside the neighborhood to redeem it and bless it. Many of them have escaped the traps of self-defeating behaviors and are committed to help these people find a reason to hope and a way out of the darkness.
For a few moments, I was blessed to be in indescribable squalor and yet feel that I was among people who truly lived it when they prayed, "Thy Kingdom come, Thy will be done, on earth as it is in heaven."
4 Responses to 'Celebration Hill'
Leave a Reply