Archive for February 12th, 2008
For today's post, please see the article in Heartlight.com. The post can be found here.
This morning we heard about the Compassion CSP or Child Survival Program that is a primary force in rescuing pre-born to three year old children by intervening and equipping mothers. This is the program that Phil talked about having saved Doreen, the child the Wares sponsor in Uganda. Below, Phil and a Compassion worker hold the file of the immunizations and medical treatment provided by CSP for Doreen for the time she was between her first birthday and her third birthday.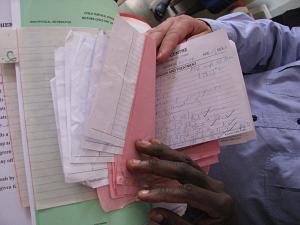 What we sometimes call worship, but it's often not.
What we long to share with those we love, but often don't.
What so many of us want in our daily lives with God, but often won't.
What the name of the slum is that I sat in this morning claims to be, but isn't.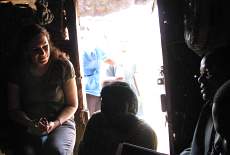 I sat in a matchbox-sized house — 7 foot by 9 foot, one wall a little over 5 foot tall and the other about 9 foot tall. Sweat from my hair ran under my collar and down my back. The light filtered into this tiniest of homes through the crowded doorway. Eight souls share this cramped box called a house on Celebration Hill, in Kampala, Uganda.
Over the shoulder of a child standing in the doorway, I could see the beautiful mosque on top of the hill. Other than the call for afternoon prayers that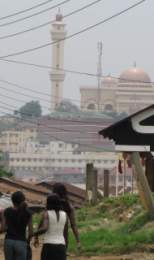 filtered down the hill from the mosque and spilled into this neighborhood, the mosque's presence offered little visble impact, and even less solace, in the lives of these people caught in death grip of poverty. This is supposedly a largely Muslim neighborhood, but the lack or morals and the darkness of the "night" in this place are really testimonies to the lack of faith, no matter the claimed religion.
We were gathered to learn and to love from this family. The mother went to her knees to thank us for our presence. She openly shared her deepest concerns: a better relationship with her husband and better health for herself and her children. Underneath lay the other request: a way to escape the poverty and a way to replace her secret income from her home brew that only brought a more recognizable blight to her neighborhood.
The father of this family, her husband, worked part-time with the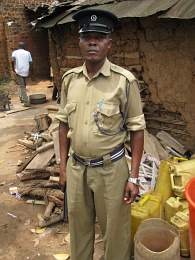 anti-terrorism police. He showed up near the end of our visit and proudly put on his uniform — hat, shirt, baton, and rain hood. She dyes some kind of clothing or rope, but also runs a business that provides the "celebrators" with their neighborhood hooch, a home brew, and her only income. But drunkenness and sexual attacks are result of this awful brew during Friday reveling on Celebration Hill. Like the neighborhood around her, this mom-wife-brewmaster is trapped in the squalor and deep poverty of poor choices, poorer opportunities, and the poorest kinds of hope.
Little by little, this family is being led out of the cycle of poverty and self-defeating choices, by the one reason to celebrate on Celebration Hill: a church partnered with Compassion International to give children in this neighborhood a figthing chance. Unlike neighborhood flight in the U.S. as a neighborhood "changes demographics" (Code for "changes racial composition"!), the leaders of this church come from outside the neighborhood to redeem it and bless it. Many of them have escaped the traps of self-defeating behaviors and are committed to help these people find a reason to hope and a way out of the darkness.
For a few moments, I was blessed to be in indescribable squalor and yet feel that I was among people who truly lived it when they prayed, "Thy Kingdom come, Thy will be done, on earth as it is in heaven."
The heavens declare the glory of God;
the skies proclaim the work of his hands.
Day after day they pour forth speech;
night after night they display knowledge.
They have no speech, they use no words;
no sound is heard from them.
Yet their voice goes out into all the earth,
their words to the ends of the world.
In the heavens he has pitched a tent for the sun,
which is like a bridegroom coming out of his chamber,
like a champion rejoicing to run his course.
It rises at one end of the heavens
and makes its circuit to the other;
nothing is deprived of its warmth.
The law of the LORD is perfect,
refreshing the soul.
The statutes of the LORD are trustworthy,
making wise the simple.
The precepts of the LORD are right,
giving joy to the heart.
The commands of the LORD are radiant,
giving light to the eyes.
The fear of the LORD is pure,
enduring forever.
The ordinances of the LORD are sure,
and all of them are righteous.
They are more precious than gold,
than much pure gold;
they are sweeter than honey,
than honey from the honeycomb.
By them your servant is warned;
in keeping them there is great reward.
But who can discern their own errors?
Forgive my hidden faults.
Keep your servant also from willful sins;
may they not rule over me.
Then I will be blameless,
innocent of great transgression.
May these words of my mouth and this meditation of my heart
be pleasing in your sight,
LORD, my Rock and my Redeemer.
\o/ — Comments Psalm 19: Forgive my hidden faults! — \o/
As I look at this Psalm, the standard observations ring in my ears: God has revealed himself in nature and in Scripture. Both of these are clearly championed here. I do not quarrel with those insights.
However, in meditating over these verses, I am struck with a profound self-awareness and deep humility exhibited by David as he shares these insights. Truth, no matter how profound and astonishing — whether insights from nature or from Scripture — can still be distorted by our own selfish interests.
Who can discern their own errors? Forgive my hidden faults.
I confess that I can find all sorts of ways to rationalize my own "character defects." I can easily dismiss the strong words of truth that should convict me, and then apply those same words to others while overlooking my own failures in the same area. Jesus warned about trying to take a speck of sawdust out of the eye of another while overlooking the plank in my own eye. David's words are powerful truth — truth I desperately need just as much as I need to see the majesty of God in creation and the will of God in Scripture!
O God, no matter how I come to know your truth, I confess I need your help to see my own hidden faults and to be convicted of my willful sins. Most of all, LORD, I need you to invade and transform my heart through your Holy Spirit. With David, I cry out, May the words of my mouth and the meditation of my heart be pleasing in your sight, LORD, my Rock and my Redeemer.