Archive for February 11th, 2008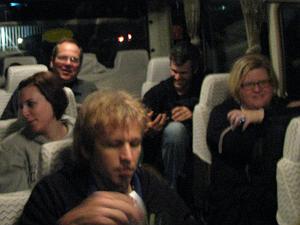 We made it in to Uganda and to the hotel early this morning. I believe it was 3:00 A.M. local time when we finally looked at going to sleep. So we are running on "loco" time this Tuesday morning as we try to get going on things we need to do.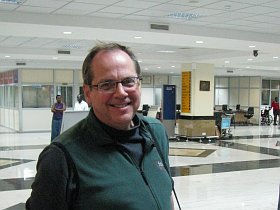 But I am excited to get to go see Doreen, the little girl we sponsor here with Compassion.
The journey has been long and tiring. But our prayer is that we can bring you a glimpse of the world of poverty through the eyes of kids and then help you know how to make a difference. As I read today's reading from Acts 8, one verse really jumped off the page. (Oh, and what day is it anyway? I'm so turned around time wise it's hard to tell as I try to get my body clock adjusted 9 time zones!)
//Inspiration: Acts 8:8
What a happy day this was for that city!
//Incarnation:
This is my great desire for the next few days — that we can bring joy to the places we visit, whether it be the market place, the centers, the home visits, or even in the places we stay. Of course, I know we can't bring the real and abiding joy we long to share. We can laugh and love and get caught up in the smiles of these precious souls, but only the Holy Spirit can bring this joy. Only the grace of God seen tangibly in His people, can give the hope we desire to share. This is the same kind of hope and joy that reached the heart of the Ethiopian nobleman and the people who heard the good news about Jesus and responded.
//Invitation:
Holy Father, please use our little band of blogging travelers to bring Your joy into the lives of those we meet. We pray for good health, good weather, good travel, and good influence. We don't want to be a stumbling block or a problem in any way. Instead, dear Father, use us to bring Your blessing. In addition, I pray that you can use our experiences to open the hearts of those back home to see a great opportunity to make a forever difference in the life a child. In Jesus' name. Amen.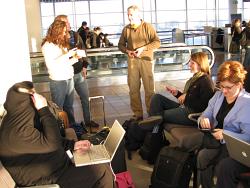 Our band of tired but excited bloggers made it to Brussels to take our final jog in the journey to Uganda. It's a fun, but tired group as we settle in to relationships.
For all of my friends and family at home, BooMama and RocksInMyDrier are in the foreground. BooMama, however, is waiting for a more photogenic moment. Carlos Whitaker is charging up his MAC for the long flight south.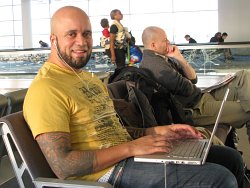 After learning more about the group and also about the projects and places we're going, we're all pumped even though we've flown all night and many didn't get much if any sleep. Great people. Great time. Great mission.
Keep us in your prayers and think about sponsoring a child.