Archive for February 10th, 2008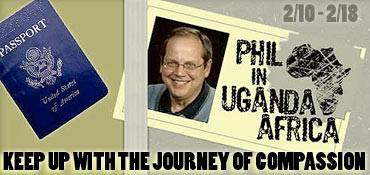 It has been a wild few days getting ready for the trip!
But now, we are all on our way for the long trip to Uganda. (Check out the map for the trip travel plans.) Today, the Heartlight.org article describes the trip in detail, but wanted to let my blogging friends know, we're underway. Please keep us in your prayers and please prayerfully considering becoming a sponsor this week as we meet and love on these special children!
Two below. Yep, that's right unless you are the rest of the world and then it's something more like 17 below. Chicago is cold today and that's where I'm headed right now. Quite a change from yesterday in Abilene, where it was in the seventies. But, I'm not going to get out in the cold, I'm going to rendevous with some folks from all over the U.S. who hang out on the web with different audiences. I can hardly wait to meet them and some folks I've visited with at Compassion via email and the web over the last several years. And all of us are going to Uganda where it's no doubt warmer than Abilene and way warmer than Chicago. Sometime tomorrow, we will blow through Brussels, but that's somewhere between now and tomorrow.
After reading the travel guide for our "Bloggers Trip" to Uganda and doing all the packing — and remembering a few things at 40,000 feet that I didn't get packed — and praying for the trip, I'm ready to get going. I know this will be a circuit re-arranging week. Having experienced, first hand, third world poverty along with the loving embraces and the big smiles on the faces of God's children in awful circumstances, I know that I can't know what lies ahead. I can anticipate, but I know I can't predict. God will be full of surprises this week.
As I think of today's Bible reading from Luke 7 and Stephen's scorching white-hot rebuke of the religious leaders for placing their hope in a place and in keeping their precious status quo protected, I have to wonder what he would say to us, today. Moreover, what would he say to me? He definitely got a powerful response from his "altar call"! And he got to see some things that few of us will see before glory.
I look forward to hearing that word from others around me on the trip — folks who come at things from a very different perspective than I do, but who share a deep love for Jesus, for those trapped in poverty, for drinking the last ounce of joy out of life, and for being honest to the grittiest of details. Our band of raggamuffin yet privileged souls are about to meet up. I have to be believe that none of us will return unscathed, unchanged, and un-invested in each other and in the children who will steal our hearts. Of course, I'm sure there will be some uncomfortable moments for all of us, along the way, too.
But to the point of this devotional reflection: Stephen is right, God can't be contained in a box. It doesn't matter if the box is an elaborate Temple or a set of preset religious notions we want God and our tidy religion to fit. He will destroy every barrier that seeks to preserve what is not really His heart and doesn't share His character and compassion. Somewhere, I've got to let God be God, or I will find myself holding up stones to silence God's true messenger.
//Inspiration: Acts 7:48-50
However, the Most High does not live in houses made by human hands. As the prophet says: " 'Heaven is my throne, and the earth is my footstool. What kind of house will you build for me? says the Lord. Or where will my resting place be? Has not my hand made all these things?
//Incarnation:
My hope is to speak less and listen more this trip. I have much to learn. I also hope to hug and bless Doreen and her family. I don't want to erect any barriers between me and those with whom I will travel and I sure don't want to be a burden or problem to those we come to serve.
//Invitation:
O Father, I have no idea what lies ahead over the next several days. In my egotism, I'd like to think that I can imagine what might happen. But experience and grace remind me that I have no clue. So I pray that you take this time, this trip, and these people and use us to be blessing and help us experience Your presence in all that appens. In the name of Jesus, I pray. Amen.