Archive for February, 2008
Our daughter, Megan, was laughing so hard that tears began to roll down her cheeks. The more she read, the louder she cackled.
"What's so funny?" I asked her.
"I'm reading Rocks in my Dryer," she said, "it's absolutely hilarious! Shannon is talking about anti-malarial medicine, marrying a pirate, and Veggietales."
"Well you're going to have to read it out loud if it's that funny," I suggested. "Only Shannon could get Veggietales, a pirate, and anti-malaria medicine into the same post."
Megan responded, "Well, it's actually two blog posts, so let me start with the first one, called Sweet Dreams, so you guys know what is really going on."
When a group of Internet types met at O'Hair airport in Chicago several weeks ago, I had never met Shannon. I knew several women from church, including my wife, who sometimes read her blog called "Rocks in My Dryer." Fifteen of us who blogged were headed to Uganda with Compassion International. By some great act of God's grace, I was included in the trip.
We were definitely an interesting assortment of folks — if you don't believe me, take a look at us on the Compassion blogging page. Shannon was one of the two we called "momma bloggers" — ladies who were moms and who wrote about their lives, but who also could be incredibly hilarious as well as deeply serious.
Megan went back and read Shannon's two posts on marrying a pirate with whom she had already had two children and how they had to have a lifeguard for the children during the wedding. However, this wild and crazy post wasn't the work of some wild imagination, but was instead the crazy dream she had while taking her anti-malaria medicine. Donna and I both laughed as Megan tried to read the story through her uncontrollable laughter.
Donna and I laughed so hard that we cried as Shannon described her anti-malaria medicine dreams. Her post also reminded me that I needed to take my weekly anti-malaria medicine that night. So thanks, Rocksinmydryer, for not only being funny, but also helpful.
That night, I had a hard time sleeping — the medicine can make me feel like I'm falling over backwards and stuck in twilight sleep, not a fun sensation. When I did finally go to sleep, I had wild and crazy dreams. Unlike Shannon's dreams, mine didn't seem all that funny when I was having them. When I woke up, they had completely vanished from my memory — not a big surprise to anyone. There was nothing funny about the night except the way my hair looked the next morning. However, when I retrieved my socks from the laundry room that next morning, I did find change in the dryer and I felt like I had rocks in my head.
As for Shannon, three mental images stick with me from the trip. Each of these were captured on film. In one of them, she is reaching out holding the hands of precious little girl in a pink dress. In another, adoring children surround her. In the third one, Shannon is holding a small child close to her. As she looks into this child's eyes, there is an expression of joy that makes you think she can see all the way into that child's heart, filling it with love. You see a similar look as she looks at Dissan, the boy her family sponsors with Compassion, at the luncheon where they met. He is wearing that University of Arkansas hat and a big smile and she is the one with the adoring look. (See the video below for these pictures and more.)
Some women are just wired by God to be great mommas. A few of those are given the gift to be momma bloggers. I've been blessed to meet two on one trip, and one them has rocks in her dryer!




Color, for some of us, is everything. For others, like a good friend of mine I work with, color is a mystery — he is absolutely color blind. I'm not sure how I would make it in such a world. I love the artistic use of b/w photography. This brings out elements and lines and mysteries I don't see in color. But, to live without color always, would be hard to imagine.
As much as I would like to think that color is an individual, preference sort of thing, colors change us, move us, and touch us in ways that similar and yet uniquely distinct. So there are color palettes. God gave us the rainbow. Artists work within, or intentionally defy, acceptable color palettes. Some of us just goober up the canvas, interior design, website, or whatever medium we defile, because we pay no attention to color palettes.
So to the rescue comes the kuhl kuler website, http://kuler.adobe.com/ that helps us all, skilled and neophyte, get the color thing dialed in … or at least have a clue when we're out of whack with the rest of eyes on the planet.
Enjoy … play … and use. Be kuhl, and even kuhler!
Being kuhl today is part of Randy Elrod's WaterCoolerWednesday, join in the kuler celebration!
Sooner or later, the jet lag, emotion, and amazement of the Compassion trip to Uganda had to hit me. When we arrived home on Monday the 19th, I got a good night's sleep and jumped right back into my routine with Heartlight and Southern Hills. I was playing catch up and scrambled my way through a busy week.
On Sunday morning, however, about ten minutes into my sermon, an image flashed on the screen of some of the children I had been with in Uganda. Then the picture, the little girl we sponsor flashed on the screen. In a very public situation, and without warning, all the emotions, exhaustion, cultural differences, and jet lag hit all at once. I wrestled to gather my emotions, my voice pushed by will through clenched vocal chords tangled by emotions. The carefully prepared outline of a message suddenly scrambled in my head as my thoughts wrestled with the emotions of my heart. By the grace of God, I got through it without a total meltdown. However, some things slipped out in ways that I wouldn't have said them under different circumstances. Carefully crafted points suddenly became fuzzily entangled in the moment.
When I sat down with ministry staff and several elders months earlier to speak on the topic, "Unto the Least of These," I had no idea I was going to Uganda to be with children, and especially this one special child, whose smiles would be indelibly written on the canvas of my heart. But I had gotten through the message … in the first service! Somehow, the Holy Spirit was going to have to pick me up and kick me in the backside and help me through another one.
Before I made it home from that Sunday morning, Megan (our daughter) and I picked up Donna at the airport. She was coming in from a speaking engagement in Alabama with her friends, The Coffee Group. They were excited and tired and glad to be home, but feeling good about their weekend with their sisters in Christ from Homewood. I was excited to be with her and we were both glad to get home and be together.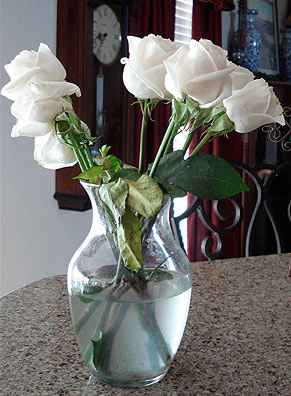 On the way into the house, there on the counter, was a simple vase filled with white roses. They looked great except for one wilted set of leaves. I had sent them to her for Valentines' Day, along with red and pink roses — two dozen in all. Somehow the white ones had hung on for nearly two weeks and still looked good, but all the other roses with color had wilted. I had culled out the wilted roses, and left behind the white ones. It was a little thing, but something I knew Donna would notice as a simple way to say, "Glad you are home! I love you!"
As I looked at those roses, that's how I felt. Glad to be home and loved, but drained of color and wilted on the edges.
My blogging buddies — it is unbelievably cool to think of these incredible people as my buddies connected at the heart through the children of Uganda — have been discussing the challenge we have faced the last few days of speaking about this event. We want to share what we feel, but our feelings are too deep to communicate without tears and laughter. We are not sad, we are just deeply changed. For awhile, as we regain our balance, we are wilted roses. But unlike the roses I culled to leave only the nice looking white ones for Donna to see, we will regain our color and lose our wilt. We have experienced something we don't want to forget and have been touched by children whom we can't forget.
In my article for Heartlight today, I share some observations about joy. I'm looking for your input, so I'd like to ask you the following questions:
What steals your joy?
How do you hang on to your sense of joy?
Why does pursuing Jesus as Lord being you joy?
(Please post your responses to these questions, below!"
"What in the world is a BooMama?" I asked my wife, Donna, as tears of laughter streamed down her cheeks.
"Oh, she's someone who blogs and is hilarious. All the girls I know read her. Denise turned me on to her because she's a southern girl, too."
Well, BooMama tries to explain what a BooMama is, but to be honest, the person, otherwise named Sophie, far outstripped any word-limited description. She is Southern Belle meets Southern Fried Chicken, with a sarcastic whit and a deep love for children, her family, and the Lord.
I was blessed to go on a blogging trip to Uganda with Compassion International — find out more by clicking the Uganda with Compassion tab above. Among the 15 or 16 very talented folks who came along was BooMama — I often had to pinch myself to see if I was really blessed to be along with this group: I think I was included as the token old geezer, blogging talent certainly didn't get me in, that's for sure! Not only did BooMama add spice, charm, humor, and an outstandingly delicious Southern drawwwwl, she was a mama blogger personified. She was great with kids and translated that love for children to her readers, many of whom sponsored a child.
Last night, after playing a week of catch up on sleep, work, writing, sermons, visits … I was sitting in the TV room watching my daughter laugh as she stared at her laptop. "You must have had quite a time with someone as sarcastically hilarious as BooMama!" Megan said. Yes, I'm in a house with two BooMama fans, but Donna has gone to BooMama land to speak with The Coffee Group on a ladies retreat at the Homewood Church in Birmingham, Alabama.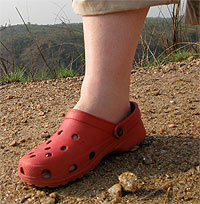 We then proceeded to laugh together as we read two of Sophie's recent posts, Our Great Big Wilderness Adventure and My Afternoon Outside in Nature. I especially appreciated the latter, since I had gotten her to pause to show me her Southern Belle rock climbing shoes, pictured to the left — yes, I know they are Crocs, what did you expect?
While you can't know the meaning of all of the pictures below, this is a little video summary of BooMama from my vantage point. What tells the whole story for me, however, is not something funny or crazy or Southern. When most of the group got to meet their sponsored child, I had already had an in home visit with our sponsored little girl. Having a big BooMama heart, Sophie made sure that her the little boy sponsored by her brother's family was included in the lunch. So she made time for "Little D" and then shared him with me while she held, cradled, cuddled, and loved on her family's little girl. Many of the pictures of Sophie and this little girl were actually taken by "Little D" who loved using my camera. Sophie's little girl didn't say a word until "goodbye," but snuggled up and shared the love only a BooMama can give.





The first thing I did on returning from Uganda after collecting my baggage, kissing my wife, and hugging my daughter was going to a greasy-spoon hamburger joint. Mmm! That hamburger was good. Grease dripping off the bottom of my chin, good! And of course, the best thing to go with a hamburger is a mound of French fries and a generous glop of ketchup.
I'm not sure who bottled that ketchup, but I can assure you that what I've needed this week is some bottled "CatchUp." Being gone has put me behind, big time. So I'm running around trying to put a little "CatchUp" on everything — email, laundry, office, phone calls, and especially sleep.
But what a great eight days with incredible people. With another day or two of rest, I'd do it again. Those faces, those children, and the great opportunity to help Compassion made the whole thing more than worthwhile — it was an incredible blessing. And then getting to meet our little girl we sponsor with Compassion was unbelievably touching, a memory I will hold forever. (Check out the article on my visit along with the video of that visit on the website and see a little piece of video on the faces of the people we met, especially some of the children, below!) If you haven't signed up to sponsor a child, it's not too late!
But right now, I can't go anywhere because I put Donna on a plane early this morning. Her women's group is speaking in Birmingham Alabama to the Homewood Church women on friendship. Donna's group is called The Coffee Group and so it's my turn to stay at home and hold down the fort.