Archive for January, 2008
"What would good people do if the wicked destroyed all that is good?"
The psalmist, David, asks this question in Psalm 11:3 (ERV). However, all three psalms in our reading today (Psalms 10-12) focus on this same basic issue. Those who scorn the will and the way of God have not only abandoned the poor, the needy, the helpless, the orphan, and the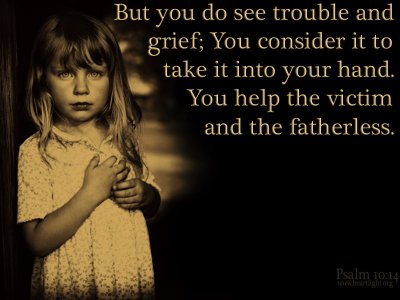 good people, but they also have abused, taken advantage of, and brought injustice upon them. They assume God doesn't care, if of course, any god is there at all. They bring evil on the powerless and curse God on whom these helpless call.
//Inspiration: Psalm 12:7-8 (ERV)
LORD, take care of the helpless. Protect them forever from the wicked people in this world. The wicked are all around us, and everyone thinks evil is something to be praised!
//Incarnation:
When your heart is focused on something and go back and read familiar Scriptures, an amazing thing happens: you see things emphasized in God's word you never noticed before. As my heart has turned to the poor in recent days, especially the poor children of Uganda, I have been overwhelmed at what God has been saying to me from the Gospel of Luke and now the Psalms. I don't know if this is part of His plan to etch His will on my heart. Some of my Heartlight.com friends would call this not a coincidence, but a "Godincidence"!) Or this could simply be that my eyes are open to read the Scripture from another vantage point. All I know is that my eyes have been opened and that God has etched some newly discovered truths deep in my heart. Those who suffer from evil in both high and low places of authority are always the poor, the helpless, and the children. So we do cry out to God. And I will let my prayer, my invitation to God tonight be the words of the psalmist.
//Invitation:
LORD, get up and do something. God, punish those who are wicked. Don't forget those who are poor and helpless. And, dear Father, I pledge to do what I can to help those who are forgotten, abandoned, and abused in Your name. Through Jesus I pledge this and ask for Your intervention in our world. Amen.
You know if a culture values human life by the way it treats its children. That's why Mother Teresa responded to a Newsweek Magazine question many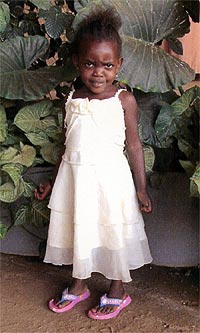 years ago the way she did. She was asked what she thought about abortion in America. Her response was something close to this: "When a society kills its own children, what is there left to say?"
Jesus makes clear in Luke 18 that He not only loves children, but that he will also hold accountable those who keep them from Him or cause them to stumble. In addition, Luke has emphasized strongly the way Jesus wants us treat children and the poor for the last three chapters, Luke 16-18. So often, poverty keeps children from having a chance at anything … a healthy life, opportunity to thrive and succeed, and most of all, to find Jesus and a world-wide family of grace.
I had not expected or anticipated the powerful message of these chapters to coincide with my preparation to go to Uganda and my families' opportunity to write the two children we support monthly through Compassion, Doreen and Estarlin (both pictured in the blog). God has a way of both confronting and confirming His call to us and I see this happening to me in these chapters. I hope you will be in prayer about what God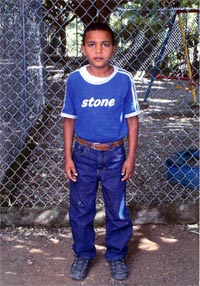 is showing you in Luke 16-18, too.
//Inspiration: Luke 18:16
Then Jesus called for the children and said to the disciples, "Let the children come to me. Don't stop them! For the Kingdom of God belongs to those who are like these children."
//Incarnation:
I must hear the call of Jesus to me and not wait for others to recognize His voice, for He may be calling them to some other act of kindness to the poor and the childre. But this I know, I must be faithful to His call on my heart!
//Invitation:
O Lord Jesus, please help me see how can help with the many who are wanting to know you, but don't yet know it and may never have the chance because of their circumstances. In Jesus' name. Amen.
The hot dogs, grilled out over the portable BBQ grill in while we sat in the blazing heat on an empty parking lot, were delicious! Then we ate cold watermelon, enjoying each crunchy, juicy bite and then spitting seeds on the hot pavement. As the son began to sink low in the sky and the western horizon lit up with an array of oranges and yellows, purples and reds, the homemade ice cream cranks were turned and we licked our lips in anticipation of the sweet, cold treat. We talked, joked, and shifted in our old lawn chairs unsteadily. We were waiting for the main event of the evening. And as wonderful as all the food and fellowship were, they were not the reason we came. We wanted to see the fireworks!
Nothing is quite as brilliant as a great fireworks display against a dark, moonless, night sky. In addition to the bright array of light bursting across the night sky, sound and smell enter into the equation. Anticipation gives way to excitement as the dance of the fireworks begins.
Yet one display across the sky will dazzle all others: the return of our King. When the Lord returns, he won't sneak back in nor will he be welcomed by only a small band of shepherds. Every "every eye will see him, even those who pierced him …" the old apostle John told us (Revelation 1:7). But long before John promised this to a struggle group of persecuted believers in Asia Minor, Jesus had declared it to His closest followers:
//Inspiration: Luke 16:24
For the Son of Man in his day will be like the lightning, which flashes and lights up the sky from one end to the other.
//Incarnation:
I know that when I was growing up, many preachers tried to scare us out of hell and made the coming of Jesus a scary event. Now, however, it is an event of great anticipation, reunion, and hope. I want to enjoy the "reunion party" and share in the joy. I want to see the Savior face-to-face. And, I cant wait to see the Lord's brilliant return light up the sky.
//Invitation:
O Lord Jesus, come! Come in power and glory and splendor and might. I long for your coming. Amen.
We are so excited. We got our sponsors packet on our little girl from Uganda. We will be her monthly sponsor: it's only $32 per month and it helps her with nutrition, education, and a chance to know more about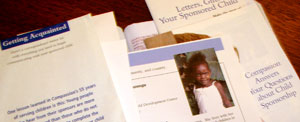 Jesus. This precious little girl is named Doreen. She is precious. I hope to get to meet her on the trip to Uganda in a few weeks. This will be our second child to sponsor with Compassion. The other child we sponsor is a boy named Starlin.
With Luke 16 being my daily Bible reading today, I couldn't help but hear Jesus' call in this chapter to use our worldly wealth to bless so we will be "welcomed into our eternal dwellings." Jesus makes clear that how we handle (I handle!) the blessings he gives me hear will determine what God will entrust to me in the future and where my eternal home will be in the future.
//Inspiration"I tell you, use worldly wealth to gain friends for yourselves, so that when it is gone, you will be welcomed into eternal dwellings.
//Incarnation:
I have to admit that for many years it was hard for me to be as generous with the work of God as I should have been. I am so thankful for the opportunity to be part of several opportunities to use the blessings I have and share them with others. But, I have to look hard at my heart and how "things," the "things" I call "my stuff," seem to be too important to me still. I am still trying to make my first reaction to blessings, first to praise God and second to ask Him how He would have me use those blessings.
//Invitation:
O God of generous grace, open both my eyes and heart to see how You want me to use the blessings you have showered on me. Please help me use what I have in ways that do your work. In Jesus' name. Amen.
Today was a busy day (January 21), handling all sorts of responses to the article in Heartlight and going out of town for an appointment. The comments in response to the article and the upcoming trip to Uganda brought tears to my eyes as several folks told some of the most moving stories about ministering, adopting, and sharing their own children to help the impoverished children in parts of Africa.
Yes, part of my tears were due to the profound sadness at so many children who will not have much chance to ever enjoy a life with many of their basic needs met. But another reason for these tears came from a deep sense of joy: joy at being included in a circle of people who are moved by many of the same things I am.
Because I was behind on my reading, I read both Luke 15 and Luke 16. I'll leave Luke 16 for tomorrow, but tonight (and actually it's well into the new morning) I can't help but notice the primary focus on joy in Luke 15.
//Inspiration: Luke 15:31-3
"'My son,' the father said, '… we had to celebrate and be glad, because this brother of yours was dead and is alive again; he was lost and is found.' "
//Incarnation:
In the crush of life and ministry, I so easily forget that God about salvation and joy. When I lose sight of this element, I lose my passion for ministry very quickly. Celebrating with those who turn their lives completely around and live for Jesus is a must — when the father in the parable, the God figure, says "we had to celebrate" then I get the clear message that I have to do so as well! The fresh spark of enthusiasm as salvation washes over someone is precious, envigorating, and restorative. I'm thankful to get to sink so much of life into the kind of work that allows me to get close to these kinds of moments, but I must never let them become commonplace or joyless.
//Invitation:
O God of grace and mercy, use me to bring You joy by bringing back others to you. In Jesus' name I pray. Amen.
Mark has been a friend since college. He's spent time in "full time" ministry on staff with churches. Now, he works as a builder, but still does full time ministry with his wife influencing young couples to follow Jesus.
He had called simply to share an affirmation about someone who has a low wage job that serves people, but which is not very respected by most folks. He was bragging on Roy and how amazing he thought it was that Roy could serve in this position for 23 years and still have such a good attitude toward people, many who treat him poorly, or at best, as invisible. Mark was praising Roy for his staying power and faithfulness.
As a minister, I don't get a lot of calls bragging on someone for doing good things. It's the unfortunate sign of our times that we focus so much energy on finding negative things and then repeating them to others. We seem to find those negative things more easily and hang on to them more tenaciously. But not Mark. I was thankful to have this good dose of blessing and encouragement in the middle of a busy day.
Then Mark went one step further: he asked to be the first person who prayed with me for my trip "right now" before I left for Uganda with Compassion International. Mark has been a youth minister and a young single adult minister: he knows how important it is for kids to come to know Jesus before they hit their twenties. The words of his intercession washed over me like a shower of grace. What a blessing.
I would love it if you would be in prayer about this upcoming trip as we try to find monthly sponsors for at least 500 children. For just a little more than a dollar a day, you can join in me supporting a child (we actually support two) and help them with the basic necessities of life and do this in the name of Jesus.
I covet your prayers, so if you would be willing to be a part of the prayer team for me while I'm on this trip, please follow this link and leave a response to the information there. Also, you want to read my companion article to this post on Heartlight, called "My Deliverer" from the Rich Mullins' song. What are some other ways to help us be a deliverer for children in need so they can ultimately find the great Deliverer. Let me hear from you in the response are below!