We are so excited. We got our sponsors packet on our little girl from Uganda. We will be her monthly sponsor: it's only $32 per month and it helps her with nutrition, education, and a chance to know more about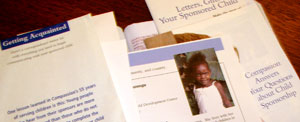 Jesus. This precious little girl is named Doreen. She is precious. I hope to get to meet her on the trip to Uganda in a few weeks. This will be our second child to sponsor with Compassion. The other child we sponsor is a boy named Starlin.
With Luke 16 being my daily Bible reading today, I couldn't help but hear Jesus' call in this chapter to use our worldly wealth to bless so we will be "welcomed into our eternal dwellings." Jesus makes clear that how we handle (I handle!) the blessings he gives me hear will determine what God will entrust to me in the future and where my eternal home will be in the future.
//Inspiration"I tell you, use worldly wealth to gain friends for yourselves, so that when it is gone, you will be welcomed into eternal dwellings.
//Incarnation:
I have to admit that for many years it was hard for me to be as generous with the work of God as I should have been. I am so thankful for the opportunity to be part of several opportunities to use the blessings I have and share them with others. But, I have to look hard at my heart and how "things," the "things" I call "my stuff," seem to be too important to me still. I am still trying to make my first reaction to blessings, first to praise God and second to ask Him how He would have me use those blessings.
//Invitation:
O God of generous grace, open both my eyes and heart to see how You want me to use the blessings you have showered on me. Please help me use what I have in ways that do your work. In Jesus' name. Amen.
One Response to 'Welcomed!'
Leave a Reply